For Honor's Season Six update is out now
Adds a new map, limited-time event, and more.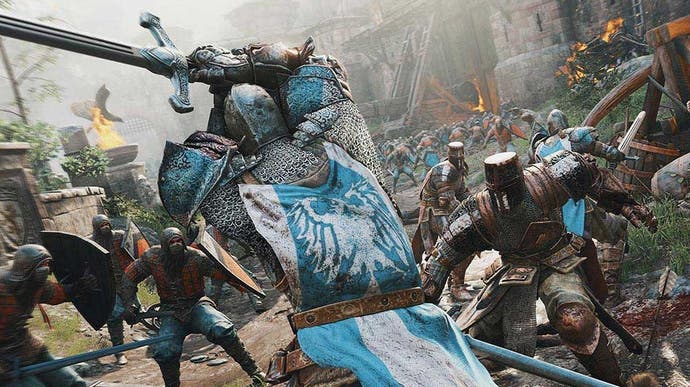 Melee-focussed multiplayer brawler For Honor's sixth season of content is now live on PS4, Xbox One, and PC, bringing with it a new limited-time event, hero overhauls, and more.
Top of Season Six's additions, however, is the new map, Beachhead - a picturesque "grand fortress of solitude and respite" that's built into a mountain. "Invaders can only arrive by boat on the banks of this fortress," explains Ubisoft, "making it an extremely defensible position, a desirable stronghold for any army hoping to gain the upper hand in battle." You can see what that translates to in-game in the video below.
Elsewhere, Season Six pushes onward with Ubisoft's overhaul of the core For Honor experience that began in Season Five. This time around, heroes Orochi and Peacekeeper get all the attention, with the former receiving changes to help "players be more successfully able to counter-attack and parlay that into a sustained offence", while Peacekeeper's adjustments are designed to encourage players to use moves that are often ignored.
Season Six's final addition is a handy quality-of-life upgrade in the form of the new Visual Collection feature. This enables players to apply any visual that they've previously acquired to a piece of equipment, provided that it's of a rarity equal to or below the gear being modified. Ubisoft says, "This reduces the need to keep gear exclusively for the visuals, and directly addresses player feedback about the lack of inventory space".
To mark Season Six's arrival, Ubisoft is holding a special limited-time in-game event until May 31st, known as The Rite of Champions. This takes the form of new 4v4 game mode, the Carousel of Death, giving players the chance to loot special event items such as weapon sets, ornaments, battle outfits, and effects.
For Honor has received regular support from Ubisoft since its release last year, significantly expanding on the original experience. Eurogamer contributor Edwin Evans-Thirlwell recently revisited the game, to see how it had evolved and improved since launch.