Ubisoft details Hulda, For Honor's upcoming season of Viking-themed content
New map, "feral warrior" hero coming early August.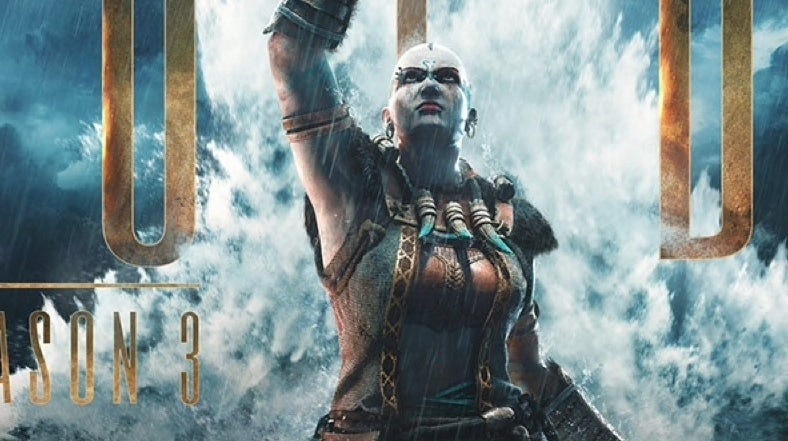 Ubisoft's online melee battler For Honor is poised to enter the third season of its third year of content on 1st August, and the publisher has shared early details of what players can expect to see when Season 3, subtitled Hulda, gets underway.
Hulda is a distinctly Viking-themed affair, introducing a new "feral warrior" clan known as the Jormungandr (Hulda being the male hero variant, and Gretar, the female). They're described as "Viking sectarians who wear their devotion to the Great Serpent", and, armed with the somewhat hilariously named War Hamarr, the clan "aims to crush the weak before Ragnarok comes, as they believe only the most worthy must remain for the Great Battle."
Those that own For Honor's current Year 3 Pass will be able to play as the Jormungandr immediately when the new season begins at 8pm BST on 1st August. All other players can access the hero from 7pm BST on 7th August, for the sum of 15,000 Steel.
Season 3 also introduces a new playground for all that Hamarr time, in the form of a Breach mode map themed around the Viking fortress of Storr Stronghold. Ubisoft also promises new balance updates for existing heroes, including the Nobushi, Shinobi, and Orochi.
There's the tiniest glimpse of For Honor's Year 3, Season 3 hero in the new Hulda cinematic trailer above, and Ubisoft says it'll be revealing more upcoming content in its Warrior's Den Twitch livestream, which starts at 5pm BST on July 25th.