FIFA 13 introduces Complete Dribbling, First Touch Control
Kinect capability to be detailed later in the year.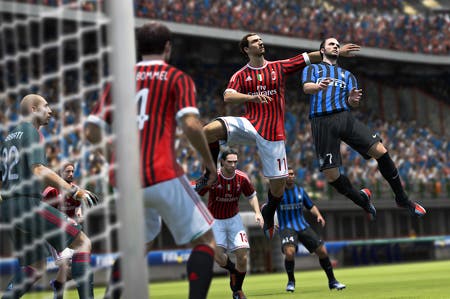 EA Sports has officially lifted the wraps on FIFA 13 and introduced this year's big gameplay improvements, with Complete Dribbling, First Touch Control and Attacking Intelligence all coming to this year's model.
Complete Dribbling's a feature that's partly inspired by this year's FIFA Street reboot, allowing players to dance around the ball and face their opponents at all times.
First Touch Control, meanwhile, adds a more random element when players take the ball, with player attributes now playing a larger role in the control of a ball.
Attacking Intelligence lends AI partners a more creative mindset when going forwards, seeing them finding space and using it more smartly - and it's an introduction designed to counter-balance the Tactical Defending that was introduced last year.
This year's FIFA will also be the first to introduce Kinect control, although specifics on that are yet to fully emerge. "Yes, we've figured out a way to get it in there," EA Sports' David Rutter told Eurogamer. "We'll be showing it off later this year. I'm happy with how it's worked out. When it was announced at E3 last year, everyone was concerned but we said we'd do right by the franchise and I feel that we have."
Elsewhere, additions have been made to the Impact Engine that was introduced in FIFA 12, with some of the more notable bugs being ironed out and with a greater emphasis placed on off-the-ball physicality.
FIFA 13's confirmed for PlayStation 3, Xbox 360 and PC, and packshots also confirm versions for Vita, Wii, 3DS, PSP and PS2. EA Sports confirmed a Wii U version of FIFA is in development, but had nothing to share on the game as of yet.