The Eurogamer Christmas Challenge
Can you beat our high scores?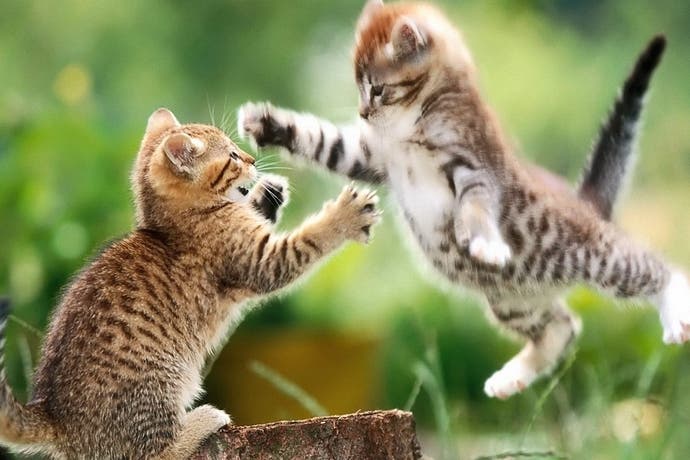 So here it is, Merry Christmas, everybody's having four pints at lunchtime then trying not to be sick while racing round Poundland in search of a last minute Secret Santa present for someone about whom they know nothing except name and gender. And at least one of those is in doubt. Ho ho ho!
But of course, Christmas isn't just about nausea and panic. It's also about rage, competitiveness and squabbling. With this in mind, we're pleased to announce the first ever Eurogamer Christmas Challenge.
We've picked five games we think are ideal for enjoying at this time of year - either because they're great for casual play, perfect for when you're pretending to read important work emails, or because they have snow in.
The idea is to see who can rack up the highest scores by midnight on December 31st. Please post your scores in the comments below or on Twitter, using the suggested hashtags, and feel free to provide photographic evidence.
There are no prizes for winning, other than the glowing sense of pride generated by knowing you are the best in the whole world at making a cartoon man kick a tiny football over some virtual cardboard boxes. Good luck!
FIFA 13's Advanced Shooting Skill Game
Platform: PS3 / Xbox 360
Benchmark score: 47,236 (Tom Bramwell)
Rules: The Skill Challenge level of the Advanced Shooting Skill Game.
Hashtag: #EGXfifa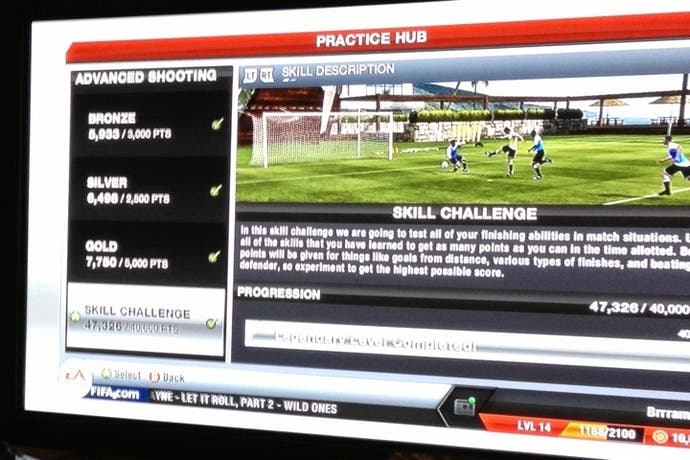 Says Tom: "I have spent all year playing football mini-games. New Star Soccer, Flick Kick Football and now FIFA 13's Skill Games - specifically Advanced Shooting. In fact, I have played these three more than Skyrim. Each." Makes sense, then, that our glorious leader would pick the Skill Challenge level of Advanced Shooting in FIFA 13 for his Christmas contest. "It gives you an unbroken sequence of the same open-play shooting opportunities in random rotation and it's about nailing enough of them to rack up big points. I recommend a mixture of lobs and rounding the keeper, along with occasional use of the left trigger for overhead kick modifiers. Good luck!" He doesn't mean that.
Ski Safari
Platform: iOS / Android
Benchmark score to beat: 319,676 (Ellie Gibson)
Rules: Penguin Peaks level. No power-ups, gizmos or upgrades.
Hashtag: #EGXski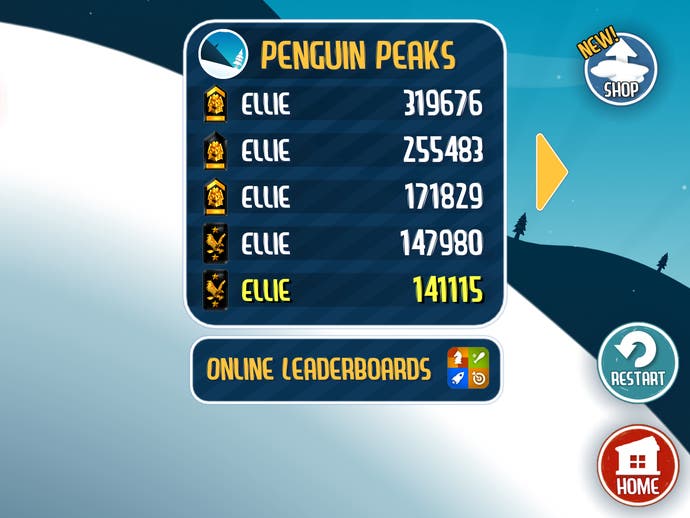 Like all the best mobile games, Ski Safari is easy to pick up, hard to put down and cheap. It's also seasonally appropriate. "Nothing says festive fun like racing down snowy mountains, piggybacking on penguins and trying to prevent a Scandinavian in a jolly bobble hat from being asphyxiated in an avalanche," says challenger Ellie. "Good luck trying to beat my high score. To be honest, I've no idea how I managed it in the first place. Was probably drunk."
Trials Evolution
Platform: Xbox 360
Benchmark score: 0 Faults, 00:43:842 (John Bedford)
Rules: Around the Ranch track, using the Phoenix Evo 250cc. Leaderboard determined by lowest faults, then lowest time.
Hashtag: #EGXtrials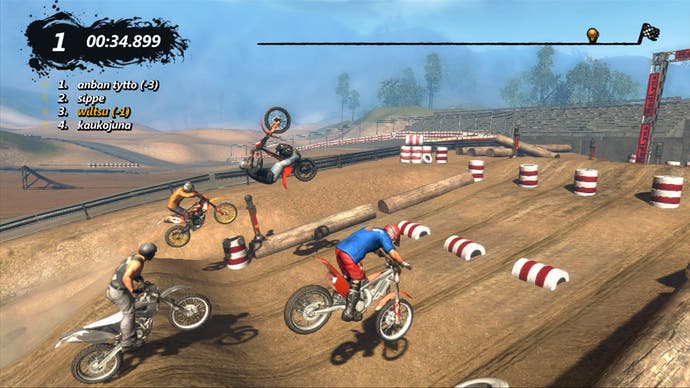 This challenge has been set by content editor John Bedford. "When it comes to an internet competition there are probably dafter games to declare yourself a big-shot at, but Trials Evolution will have to do for 2012," he says. "The track we'll be competing on is Around The Ranch because it's fun, varied and most importantly has some clever shortcuts I didn't have a hope in hell of pulling off. Maybe you'll do better?"
Catcha Catcha Aliens
Platform: iOS
Benchmark score: 4,107,214 (Jonathan Ross)
Rules: Forest Planet level.
Hashtag: #EGXcatcha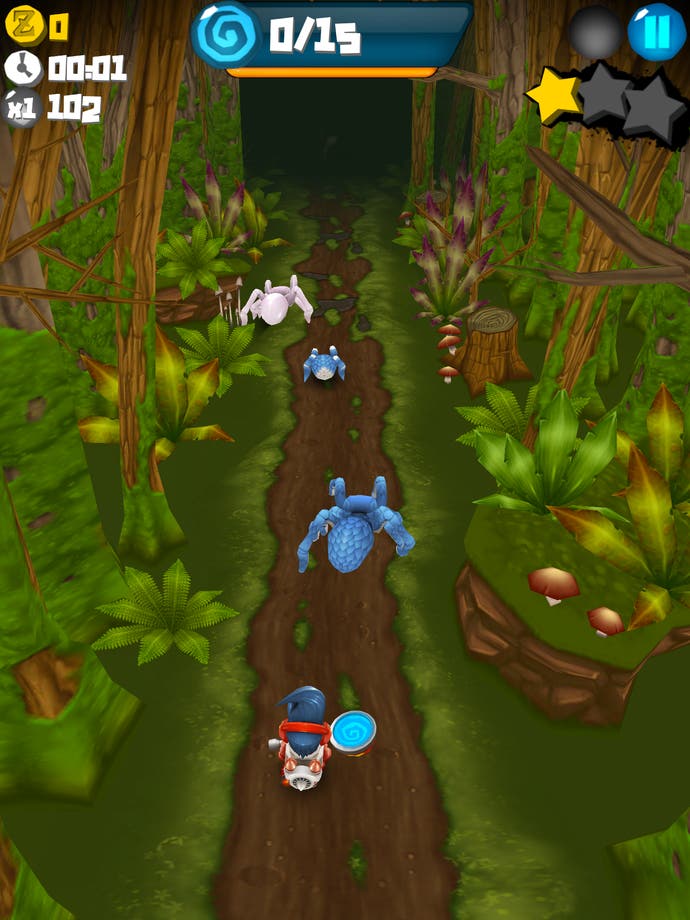 This recent release will please fans of Christmas 2011 hit Temple Run, what with it being a lot like Temple Run. But there's a twist - your mission is to catch aliens (do you see?) as you race along the forest floor. Along with the voice of Stephen Fry the game features talking by Jonathan Ross, who was involved in the development of the whole thing, and has some fighting talk for us. "So, Eurogamers... You think you can beat me at my own game? By which I mean the game I helped create," he says. "You can dream of toppling me from the top of the leaderboard, but I can out run and out catch the lot of you. Where are the true gamers? I challenge you to try and match my mighty high score skills." That's right readers, Jonathan Ross is asking you to use your gaming expertise to metaphorically punch him in the face. Go!
Super Hexagon
Platform: iOS/PC
Benchmark score: TBD
Rules: Hexagoner - because it's a challenge without being completely soul-destroying.
Hashtag: #EGXhex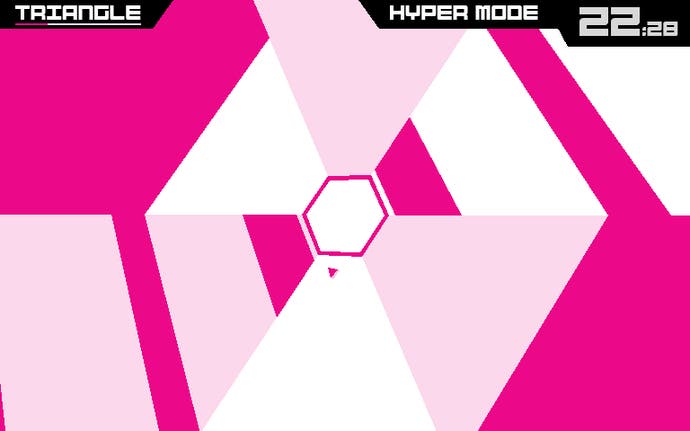 We're inviting you, The Readers, to set the benchmark score for this final challenge. It's important to understand that this is in no way because we're all so rubbish at Super Hexagon that our own high scores are too embarrassing to put on the internet. "But if we're plugging away together - on a level that's a little bit tougher than the starter setting, but still basically playable for a lot of us - we'll hopefully all get better at the same time," says Christian Donlan. "Or we'll go mental and smash our houses up. Either result channels a certain aspect of what Christmas is all about."