FIFA 13 biggest sports video game ever
And biggest game of 2012 so far. Eye-watering UK sales figures revealed.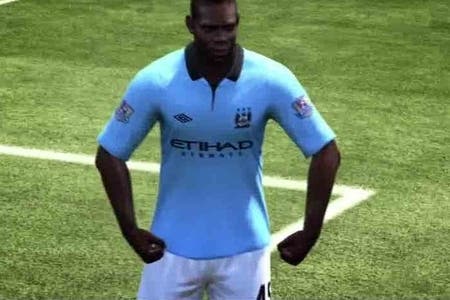 FIFA 13 is the biggest sports video game ever.
It sold over 4.5 million copies in the five days after launch - an astonishing sales feat that makes it 2012's biggest game so far.
EA sent a note to press overnight revealing new, eye-watering statistics for the football game series that just keeps on growing.
FIFA 13 was the number one selling game in at least 40 countries. One of these was the UK, where it went on sale last Friday and sold more than 1.23 million copies in the first 48 hours. That's 7.6 copies a second over the weekend. EA said FIFA 13 is only the second video game franchise ever to sell more than one million units in the UK within just one day, the first being Call of Duty. That means FIFA 13 sold 11.5 copies per second on the first day.
Sunday, 30th September was the busiest day for online gaming for a single title in EA history. 800,000 people played FIFA 13 simultaneously, and more than 66 million online game sessions have already been played. That's 600 million minutes of online play.
While FIFA 13 won't be wearing the best-selling game of 2012 crown for long (Black Ops 2 launches next month), EA Sports will be delighted with its sales performance. The franchise has shown remarkable growth worldwide and in the UK this generation and has left EA executives gushing.
"FIFA Soccer 13 is a critical and commercial success unprecedented in sports entertainment," EA Sports boss Andrew Wilson said.
"Every minute of every day millions of fans around the world are experiencing what the critics have already said - FIFA Soccer 13 is the biggest and best sports game we have ever created."