Fallout 4's Codsworth just got over 300 new player names to say
Watch him say a few of them.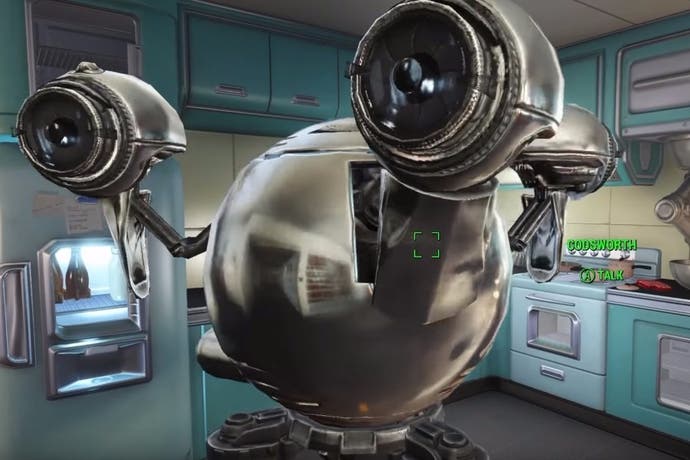 Bethesda has put out an update for Fallout 4 that adds more than 300 new player names to Codsworth's vocabulary.
When Fallout 4 came out last year Codsworth, your robot companion, had an impressive list of names that were actually voice acted - that is, player character names he would say as part of his voiced dialogue.
There were 924 player names that Codsworth could say, and among the list were dozens of sci-fi, video game and pop culture name references - you could even name your character KalEl, AKA Superman, and Codsworth would call you by name.
Fallout 4 1.6 update, live now on PC and coming to Xbox One next week (there's no release window for PlayStation 4), adds 300 names to the list. Among the new names are all the astrological signs, so yes, you can call your character Cancer and Codsworth will call you cancer.
Wrestling fans may be interested in Cena. Girls Aloud fans may be interested in Cheryl. Game of Thrones fans may be interested in Joffrey. Star Wars fans may be interested in Phasma. Rhianna fans may be interested in Rhianna. Neil Gaiman fans may be interested in Sandman. Xbox fans may be interested in Scorpio. Mortal Kombat fans may be interested in Scorpion. And Benedict Cumberbatch fans may be interested in Sherlock.
Still no Alexia, which is important to me because that's the name of my Fallout 4 character (and my wife).
As you'd expect, Reddit has dug out all the new names and popped them into a tidy list. Have a gander and take your pick.
Eurogamer video supremo Ian "Goobling Gamsers" Higton put together the video, below, to show off Codsworth's expanded vocab. Give it a watch.
Meanwhile, update 1.6 adds a number of new features, including ExitSave. Now, exiting to the main menu will create an ExitSave. So, during the next play session, the ExitSave will delete itself after you load it. Crucially, the ExitSave works in all difficulty levels including Survival.
There are fixes, too, including this gem:
Check out the patch notes over at Bethesda.net. Fallout 4 gets a big new expansion in August, called Nuka World. Remember, Bethesda has said this is the final Fallout 4 DLC.