Fall Guys was once called Fool's Gauntlet, Stumble Chums
And other development anecdotes.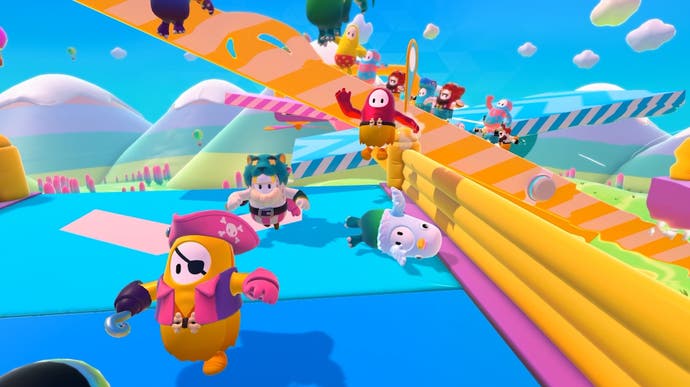 Fall Guys is the feel-good hit of the summer - a fun battle royale as fun to watch as it is to play. And for developer Mediatonic, a stratospheric success, with millions in sales.
But how did it all happen? In a fascinating Twitter thread, Mediatonic creative director Jeff Tanton runs through Fall Guys' journey from idea to release, offering some fantastic insight in the process.
For example, Fall Guys wasn't always called Fall Guys. It was once called Fool's Gauntlet, and at another point called Stumble Chums, which I'm a big fan of.
But, as Tanton explains, Fall Guys became Fall Guys because of the nature of the characters. "... our characters that would fail for our amusement, but crucially always get back up again. Always. They would be heroic in their indefatigability."
There's plenty more to the thread, including the one-page internal pitch for Fall Guys (then Fool's Guantlet), which was created by lead game designer Joe Walsh. You can see TV show Takeshi's Castle referenced in the doc.
The initial idea was for a 100-player battle royale, but this was revised during development. As Tanton says, "over a certain size, the games stopped being readable or fun."
Tanton pitched Fall Guys to about 10 publishers over a few days at the Game Developers Conference 2018. Devolver, the company behind Hotline Miami, ended up picking it up. Good call!
Development continued, Mediatonic showed the game off at PAX to a positive reception, and the rest is history.
"It's hard to imagine now but we had no idea whether Fall Guys was going to be a success," Tanton concludes.
"As a studio we've taken some tough knocks in the past and picked ourselves up again - there's a resilience and learning through that, a humbleness that I think runs through the studio culture.
"It also means we had a whole bunch of muscle memory around near-misses and might-have-beens, but not for 'completely unprecedented levels of success and attention'. When I say it was a shock I mean I spent the first week kind of numbly updating social media and shaking."