Fall Guys' mid-season update is live with remixed challenges and a brand-new stage
Big fans joins little hammer at the halfway point.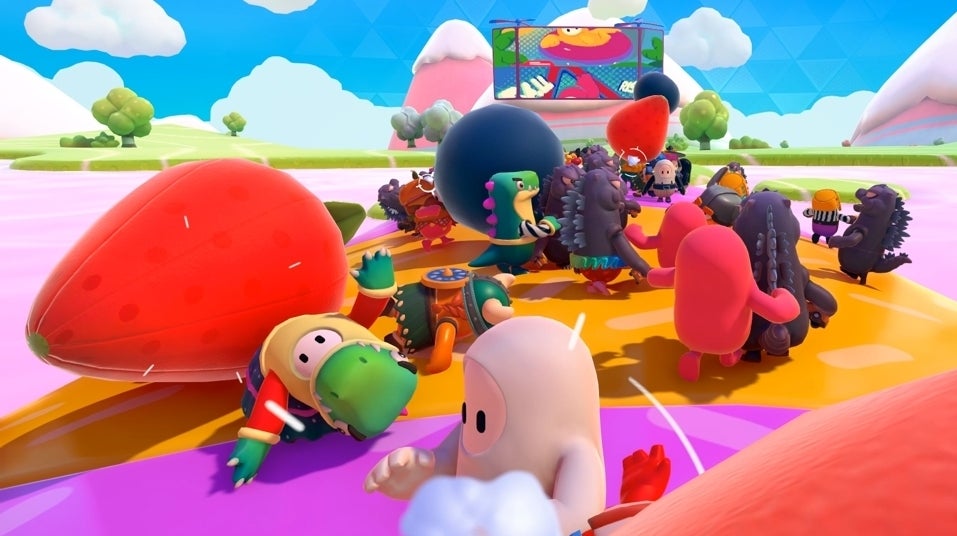 A little over a month has passed since Fall Guys' second season arrived, bringing a vaguely medieval flavour to its immensely popular knockabout action, but now developer Mediatonic is back with its mid-season update, introducing various improvements, round variations, and an entirely new stage known as Big Fans.
As far as remixes go, both Season 2 and classic rounds have been tickled with the refresh stick, and there's a particular emphasis on medieval infusions, including spiky rollers and swinging scythes in hitherto familiar stages. Additionally, expect fruity surprises and gasp at Perfect Match's new wildly rotating pole - which looks as hilarious as it does mean.
If it's a new stage you're after, though, Fall Guys' 2.5 has you covered with Big Fans, so called following a failed attempt by the game's irrepressible Twitter feed to rebrand it Only Fans.
"Take the teetering tension of See Saw, but fill it with rapidly rotating blades and an unhealthy amount of opportunities for dive jumps," explains Mediatonic of its new round, "This sky-high race leaves little room for manoeuvre, with our scientists declaring an officially unsafe bean per blade ratio, meaning careful jostling is strongly advised."
Elsewhere, Fall Guys' 2.5 update, which is out now on PlayStation 4 and PC, fixes a number of bugs and other pesky issues, as outlined in Mediatonic's patch notes. The developer also warns of rumours that a pint-sized hammer, known as Lil Yeety, has been spotted roaming the Blunderdome, so keep your wits about you.