Ex-Blizzard boss Mike Morhaime on why the studio bins 50% of its projects
And lessons learned from nearly three decades there.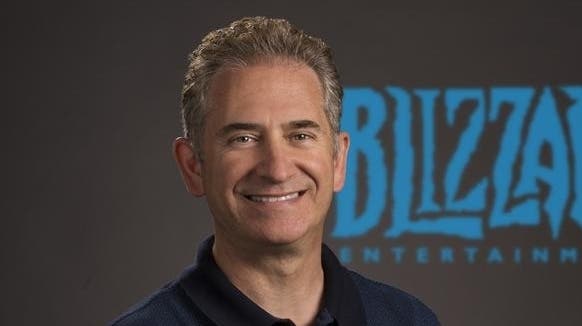 When former Blizzard boss Mike Morhaime left the company in April, he had worked at the studio he helped co-found for more than 28 years. Morhaime was at Blizzard before it was called Blizzard, when it was named Silicon & Synapse and when its employee count was three.
He decided to leave to spend more time with his family, Morhaime told an audience at Gamelab conference in Barcelona today, attended for Eurogamer by Edwin Evans-Thirlwell. The talk was hosted by GamesBeat's Dean Takahashi, and Morhaime's wife and four-year-old daughter were in the front row.
Morhaime said he'd begun thinking about what was next for him - and had been busy attending conferences to hear more from others who make games. But the lion's share of the talk centred on his past - on his time at Blizzard, and its many ups and downs.
Blizzard's 50 per cent release rate has been mentioned briefly before, but it is still an astonishing statistic to see: half the games Blizzard begins to develop never see the light of day - which amounts to some 14 titles canned throughout Blizzard's history.
"I've gone back every few years and checked the math on that, and it's pretty consistent," Morhaime said today. "It's like half the titles we work on never make it." The reasons for this varied, he added, from Blizzard discovering there was not a big enough market for the project, to it growing too expensive to finish. And, in the end, it all came down to preserving Blizzard's brand as the maker of games ranked at the highest quality.
"There's a saying that 'perfect is the enemy of great', because if you strive for perfection you'll never ship. But I do think that there's so much competition out there," Morhaime said.
Blizzard has shown it will wait until a project is ready to launch - the original Diablo is an example of this, which was delayed beyond "the most important retail weekend" of the year - Thanksgiving - then past Christmas, too. It eventually started shipping on 31st December 1996, and became the "best-selling game of 1997", instead.
"The lesson that we took from that is that it's way more important that the game is great - it's way less important that you hit the date."
---
"We tried really hard not to announce any games that weren't ready to be announced," Morhaime says. "Titan is an exception to that."
Blizzard's legendary, never-released Titan was meant to be the studio's big follow-up to World of Warcraft - a revolutionary new MMO with all the studio's learnings built in.
"We failed to control scope," Morhaime said. "It was very ambitious. It was a brand new universe, and it was going to be the next generation MMO that did all sorts of different things, it had different modes. We were sort of building two games in parallel, and it really struggled to come together."
Blizzard struggled to wrangle Titan's engine into a workable enough state where it could handle all of the game's demands - but this left other staff waiting while the tools they needed were still being put together. And it was then Morhaime and other execs took the decision to take a step back and consider Titan's future.
It was then, as we know, Overwatch was born.
"The pitch was basically an evolution of a sort of Team Fortress-style game in a superhero universe," Morhaime recalled. "It was going to leverage some of our best technology from Titan and World of Warcraft. We were going to take some characters and worlds from the Titan universe design.
"We thought we could make a really compelling game with much tighter scope control. And I think it was probably one of the best decisions that we made. We took something that wasn't going to ship for a very long time, might never have shipped, and turned it into an awesome game."
---
Blizzard has also struggled after the launch of a successful game, too - for example with the release and eventual shutdown of Diablo 3's much-maligned auction house.
"Diablo 3 was certainly a really tough launch for us," Morhaime recalled. "We had a lot of feedback about the game, about the auction house, about the impact of it on the game."
The feature was designed as a way to help regulate and officialise the item trading seen in other games - namely, Diablo 2.
"People are going to do this anyway - why don't we provide them a safe and secure way to trade items?" Morhaime said. "But the problem was that we didn't design the loot model with that in mind. We designed it without an auction house initially, and when you have an auction house in a game that's dropping tonnes and tons of loot, it's way cheaper and easier to get second-hand items from the auction house."
This meant that item reward loop was "completely destroyed" and the game essentially became "pay to not have fun" as people would get stuff from store rather than playing. Morhaime recalled going to the Diablo team and asking about the pros and cons of binning it.
"If you could do what you wanted and snap your fingers to make it happen, would you remove the auction house?" he asked the team. "They said yes, that's what we'd do." There was no obvious way of justifying this to management on paper, Morhaime said, but it proved the right call.
Diablo hit the headlines again last year, when Blizzard's big announcement for the franchise turned out to be mobile spin-off Diablo Immortal. There had been confusion prior to the announcement over whether a fully-fledged Diablo 4 was also in development. The mobile game's reveal got a hellish reception.
"It's sort of like when you have a group that's really passionate about a franchise like Diablo, really excited about a project that hasn't been announced - Blizzard tried to manage expectations that they weren't going to announce Diablo 4 at Blizzcon, but I'm not sure that got through," Morhaime recalled.
"Most of the audience did not get that memo. Maybe there should have been more discussion around: Blizzard is not abandoning the PC."
When talking of Blizzard's greatest achievements, Morhaime centred on the developer's fans, which have been serviced every year since 2005 with BlizzCon. In 2018, it had 30,000 attendees.
"We started off trying to make individual games, but a lot of it is the community around the games as much as the games themselves. So really investing in and supporting that community around the games."
When asked what he wanted now for the future of Blizzard, Morhaime concluded: "As a gamer, I hope it continues to make excellent games."
Morhaime still talks to "a lot of people" back at Blizzard, but is focused on starting his own projects next.
"Right now the thought process is making a list of the ideas we come up [with], my wife Amy and I. We've been talking to a lot of people who are doing interesting things." At Blizzard, Morhaime concludes, "we were always very focused on executing stuff, so I don't know if we had the luxury of being in an open, unconstrained space." Here's hoping more than half of Morhaime's new projects see light of day.
---
This article is based on Eurogamer's attendance at Gamelab. Travel and accommodation were covered by the conference.