There's an all-new Diablo game called Diablo Immortal
But...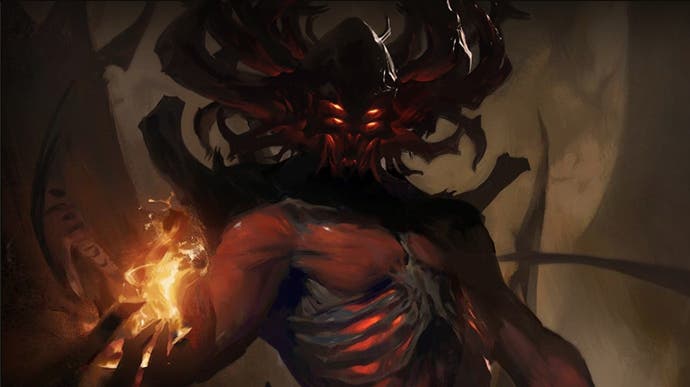 Blizzard has announced an all-new Diablo game for mobile phones called Diablo Immortal, developed in partnership with the Chinese company NetEase.
Diablo Immortal is a massively multiplayer game set between the events of Diablo 2 and Diablo 3. It will feature six character classes at launch, all from Diablo 3: the Barbarian, Wizard, Monk, Crusader, Necromancer and Demon Hunter. (Hard luck, Witch Doctor. As I recently pointed out, nobody loves you.)
Character control is via a virtual thumbstick on the left of the screen, while skills are triggered by pressing buttons on the right. For aimed skills, you hold your finger down to aim them before releasing to trigger the skill. The classes will wield a mixture of familiar and all-new skills.
The city of Westmarch - which featured in rather desolate form at the start of Diablo 3's Reaper of Souls expansion - will be the social and trading hub for the game. From there you'll head out into eight adventuring areas, where you might meet other players as you explore. Blizzard and NetEase plan to add new zones, storylines, loot and character classes to the game over time.
Diablo Immortal will be linked to Blizzard's PC gaming service Battle.net, with a shared friends list and messaging service.
No release date or business model were announced for the game.
It seems that NetEase is doing actual game development on Diablo Immortal - at its BlizzCon unveiling, producers and designers from the Chinese outfit were brought out onto the stage. It's unheard of for Blizzard to hand development of one of its precious properties over to an outside developer.
It's fair to say that Blizzard's hardcore fans at BlizzCon weren't too impressed with the announcement, giving the development team a hard time during a question and answer session at the end of a panel focused on the game - more for the choice of the mobile platform than for any specific features.
There's more detail and a chance to pre-register your interest in the game over at diabloimmortal.com.