European Rock Band 4 PS4 players want answers over unreleased DLC
Three weeks after launch, loads of tracks are still unavailable.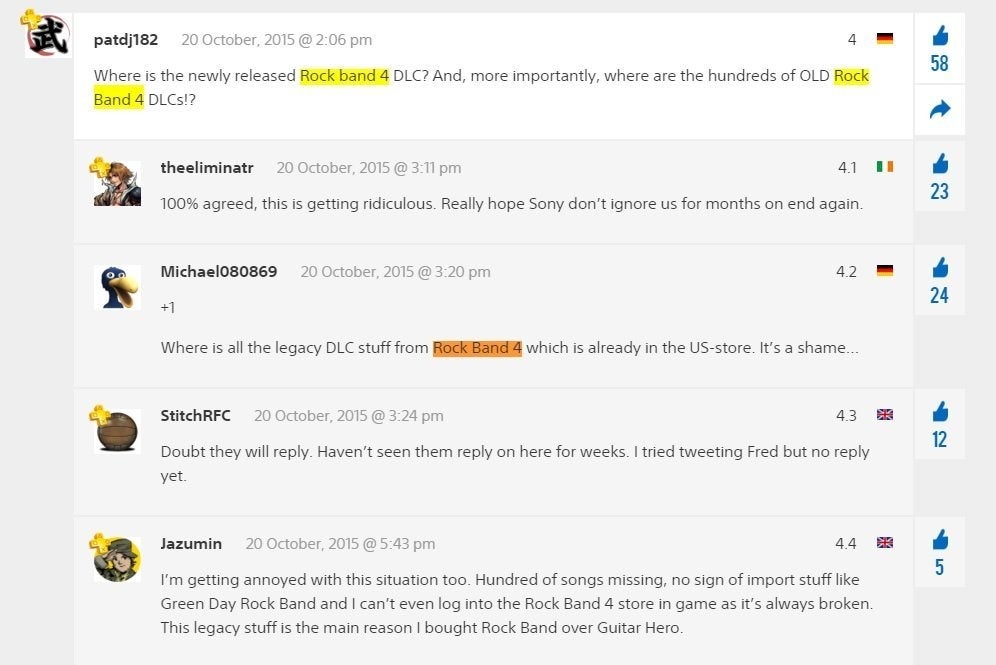 Three weeks after Rock Band 4 came out, European PlayStation 4 owners are still waiting for loads of downloadable tracks to be released.
Eurogamer has been contacted by a number of affected customers who are still waiting for DLC tracks to be released on the European PlayStation Store despite their launch on Xbox One and the US PlayStation Store.
Rock Band 4 launched on 6th October, and over half of the Legacy DLC as well as the Aerosmith DLC that launched last week are currently unavailable to buy from the EU PlayStation Store.
The availability of Legacy DLC for Rock Band 4 was one of the game's main selling points. It means those who have bought DLC for previous Rock Band games are able to re-download them to Rock Band 4.
So, what's going on?
I contacted MadCatz, publisher of Rock Band 4, to ask for an explanation. Alex Verrey, global PR and communications director, told me the following:
This part of Verrey's statement is worth noting:
Sony Computer Entertainment Europe (SCEE) operates independently of Sony Computer Entertainment America, with its own set of technical requirements, its own submission processes and its own rules and regulations and terms and conditions. Sony Computer Entertainment's set-up means developers often find themselves in the position of seeing their game and DLC approved for release in one territory, but denied release in another. It seems the Rock Band 4 DLC has fallen foul of this system.
As you'd expect, Rock Band developer Harmonix has faced a number of questions on the issue on social media, and on Twitter said it was talking with SCEE every day to try to make tracks available.
@DANEOFDCHD We're still working with SCEE to make all submitted content available as soon as possible. Talking to them every day. :)

— Rock Band (@RockBand) October 26, 2015
Questions have also been asked of SCEE over on the PlayStation Blog. When the Aerosmith DLC failed to materialise as part of last week's PlayStation Store update, angry Rock Band 4 players took to the comments. Sony has yet to respond.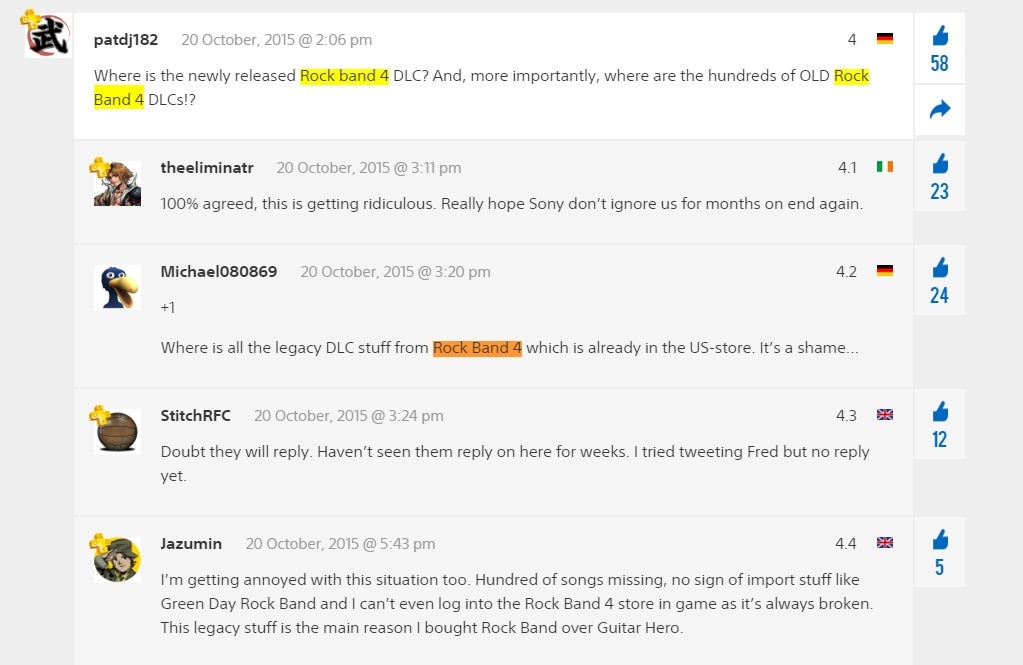 Rock Band 4 players are getting increasingly upset over the situation and the lack of a timeframe for the DLC's release. Hopefully SCEE and Harmonix will be able to work through the backlog and get those tracks up on the PlayStation Store soon.