EA details Mass Effect 3 Online Pass
Multiplayer, BioWare Social Network.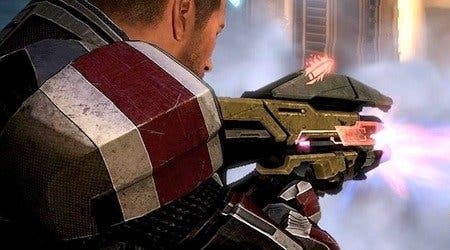 The recently announced Mass Effect 3 multiplayer mode is accessed via the Online Pass code included in every new copy of the game, EA has announced.
The new Mass Effect 3: Galaxy at War system, unveiled this week, is activated once the code found in the Online Pass is entered. Buy the game second hand, and you'll have to buy the Online Pass to access the Galaxy at War.
Players use Galaxy at War in both the single-player campaign and "through a suite of Mass Effect games and applications". They will be on iOS devices and Facebook, as revealed earlier today.
Galaxy at War also connects players to their BioWare Social Network accounts to access downloadable content and add-ons.
"The theme of galactic war in Mass Effect 3 presents us with the perfect opportunity to introduce multiplayer into the Mass Effect series," said Casey Hudson, Executive Producer of the Mass Effect series.
"Multiplayer not only features amazing combat and deep customisation options, but it will give players another way to help the war effort against the Reapers in the main event - the single player campaign."
Mass Effect 3's multiplayer, created predominantly by BioWare Montreal, is a four-player co-op mode. You play an elite Special Forces soldier sent to protect resources and assets that can help the war effort against the Reapers.
Six classes are available, and six races: Human, Krogan, Asari, Drell, Salarian and Turian.