Disney Epic Mickey 2: The Power of Two a Wii U launch title
New screenshots revealed.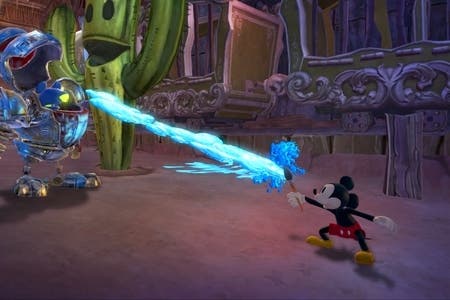 Disney has confirmed Epic Mickey 2 as a Wii U launch title in the UK.
That means it releases alongside the Nintendo console on 30th November 2012.
Disney said the Wii U hardware had allowed it to "enhance player direction and provide our fans with an immersive as well as unique gaming experience".
The game uses the Wii U GamePad to display a real-time map of Wasteland, the virtual world in which Epic Mickey 2 is set. You're able to place waypoints and markers that show up in-game to help with getting around. You can also use the GamePad to activate sketches to use in-game.
There are a tonne of people working on Epic Mickey 2 spread across multiple studios. Warren Spector's Junction Point is making the Wii version. UK developer Blitz Games Studios is making the PlayStation 3 and Xbox 360 versions. Heavy Iron, creator of games based on The Incredibles, Wall-E and Up, is making the Wii U version. The Nintendo 3DS game, called Disney Epic Mickey: Power of Illusion is being developed by DreamRift in collaboration with Junction Point.
Screenshots of the Wii U version are below.