Destiny 2 adds Destiny 1's bounty system today
Prize possession.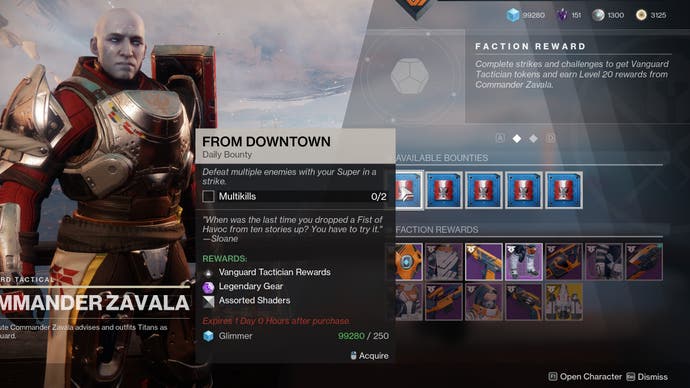 Destiny 2's latest update has added bounties, a core part of the gameplay found in Destiny 1.
It's the latest change to pivot Destiny 2 back to the golden days of its predecessor, alongside the reintroduced six-versus-six Cruicble playlist and upcoming weapon slot and shader changes.
Destiny 2 update 1.2.3 lets you pick up five bounties per day from Zavala (for Vanguard) and Shaxx (for Cruicible). New bounties will be available every daily reset.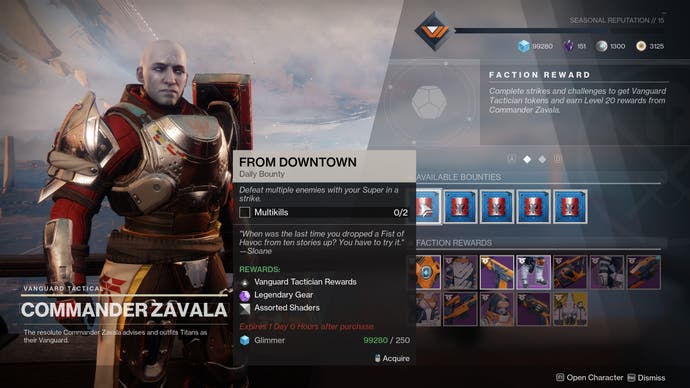 Additional bounties for the upcoming Moments of Triumph rewards will go live alongside the Solstice of Heroes event on 31st July.
Other big additions include this week's Prestige Raid Lairs. Eater of Worlds went live last night, with Spire of Stars due this evening. Both will drop 400 Power weapons (the game's current cap), raid armour ornaments and new exotic catalysts.
Over in Crucible, Quickplay is now six-versus-six and the rather unloved Supremacy mode has been removed. One change I rather like is that Iron Banner control matches will now feature Iron Temple fire pits as capture zones instead of flags. There's a new rule here too, just for Iron Banner - entering a three zone power play will lock this in for 20 seconds of mayhem before the zones reset to neutral.
Solstice of Heroes will bring with it a new Eververse engram which you'll nab alongside the current Prototype one whenever you level up. It will include a new item type, armour glows, which is of course similar to Destiny 1's chroma.
Finally, you can at last preview spawn effects from your inventory! Thank you, Bungie.