Delightful virtual reality mouse adventure Moss is now available on PC
Supports Oculus Rift and Vive.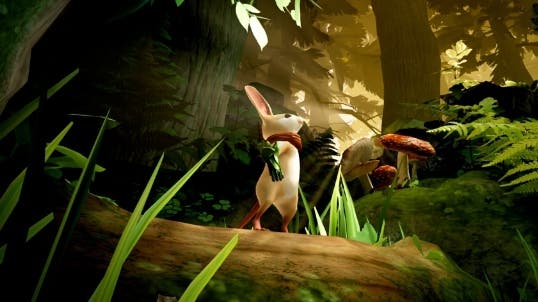 Developer Polyarc's wonderful virtual reality mouse adventure Moss, previously a PSVR exclusive, is now available on PC, supporting both Oculus Rift and Vive.
Moss, which launched on PSVR back in February, offers a brisk, but thoroughly charming experience, charting the adventures of tiny mouse Quill as she journeys through a beautiful, human-sized fantasy world.
Its most inspired element is its clever hybrid first-person / third-person perspective - although you have full control over Quill as you look down upon her, you're not simply a disembodied camera; instead, you view the world through the eyes of a spirit known as a Reader, and can interact with everything around you, solving environmental puzzles to help Quill on her journey.
Eurogamer's Ian Higton liked Moss a lot when he awarded it a Recommended badge in his review earlier this year, finding particular praise for its smart use of VR. "It allows you too lean into Quill's world, to inspect it, to explore it and to fiddle and interact with it," he said, "It disintegrates the invisible barriers that have existed between the player and their avatar since video games first came about, and it does so in a way that'll make your heart soar."
Moss' transition to PC brings with it a number of enhancements designed to take specific advantage of Oculus Rift and Vive. It now sports high-resolution graphics, and enables players to interact with the world using both hands via the Oculus Touch and Vive controllers. Additionally, it brings, multiple save slots and expanded language support - both of which will come to the original PSVR version on June 12th.
Moss is available now on Steam, as well as the Oculus Rift and Viveport stores, and costs £23.79/$29.99 USD.