Death Stranding trailer reveals character whose heart stops every 21 minutes
"I'm already dead."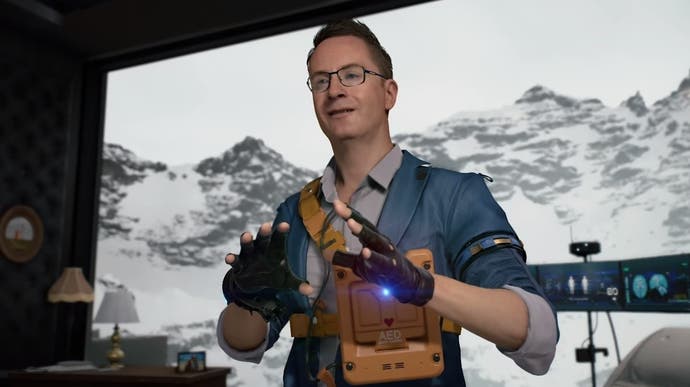 With Death Stranding fast approaching, we have a better idea of what Hideo Kojima's next is actually about. And a new trailer certainly helps untangle some of the threads.
The video below is of a cutscene that revolves around a character called Heartman, played by Danish director Nicolas Winding Refn. Heartman, the official blurb says, is a member of Bridges and "is committed to researching the truth of the Death Stranding".
In a tweet, Kojima explains that Heartman's heart stops every 21 mins, after which he's revived. This means he must live in 21-minute chunks. After one such revival, Heartman talks to Sam Bridges (Norman Reedus) to explain what it's like to live this way. There's a lot you can pack in to 21 minutes it seems, including that, and yes, that too.
HEARTMAN cutscene that I introduced at SDCC is out now. HEARTMAN is a member of BRIDGES. His heart stops every 21 mins,spends his time in the world of the dead for 3 mins and comes back by AED. 60 times/day. Thanks to my best friend & filmmaker Nicolas W Refn for his appearance! https://t.co/pcjg8dE4cI

— HIDEO_KOJIMA (@HIDEO_KOJIMA_EN) July 27, 2019
The video gives us a better idea of what the Death Stranding is - and it sounds like some kind of apocalyptic event in which the worlds of the living and the dead collided somehow. Heartman talks about things from before the Death Stranding - films, television shows and short stories. His 21 minutes of life is "downtime" spent waiting to go back to "the search". "My body may be present, but my soul is on the beach. I'm already dead."
This all taps into Death Stranding's death mechanic. When you die you do not get a traditional video game game over. Rather, you spawn in the world of the dead and fight your way back to the world of the living. According to Kojima's tweet, after Heartman's heart stops on 21 minutes, he gets three minutes in the world of the dead before he's automatically revived. This three minutes is crucial, it seems, in working out what the Death Stranding is all about.
But does this automatic revival work for Sam? What exactly does the player need to do to get back to the world of the living? And why does Heartman's heart stop every 21 minutes in the first place?
Here's the official blurb again:
"Sam Bridges must brave a world utterly transformed by the Death Stranding. Carrying the disconnected remnants of our future in his hands, he embarks on a journey to reconnect the shattered world one step at a time."
Not long now until November.