Darksiders 3 gets a November release date
UPDATE: And now there's a fiery new trailer.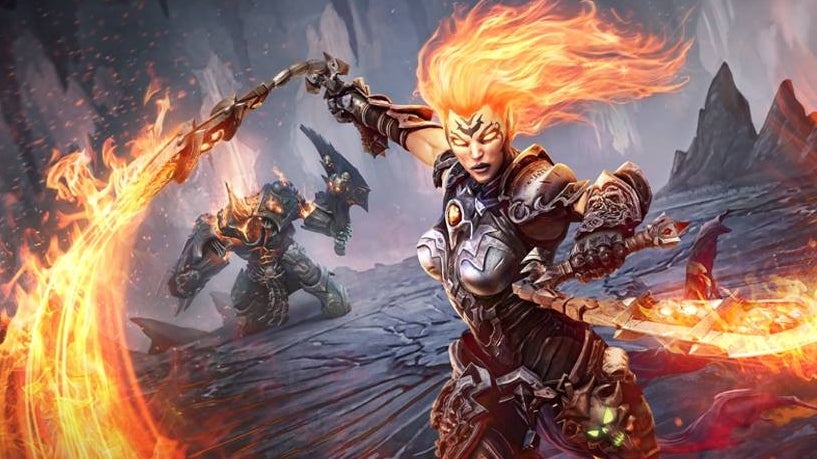 UPDATE 12/7/18: Following the announcement of a November release for Darksiders 3 on Xbox One, PS4, and PC, publisher THQ Nordic has unveiled a new trailer, showcasing one of new protagonist Fury's various forms.
Fury, one of the four horsemen of the apocalypse, is a mage and can evolve her form as Darksiders 3 progresses, altering her powers and weaponry in the process. THQ Nordic's latest trailer focusses on The Flame Hollow, which arms Fury with two deadly burning flails.
"These powerful weapons offer a new set of attacks, and charging the burning energy within them executes an explosive finishing move, devastating nearby foes," explains the publisher. "Using this Hollow opens up a number of previously inaccessible paths: Fury can pass through fire and lava unscathed, or perform a fiery high jump to launch herself to new areas."
Darksiders 3 launches on Xbox One, PlayStation 4, and PC on November 27th.
---
ORIGINAL STORY 9/7/18: THQ Nordic has announced that the long-awaited third entry in the wonderful Darksiders series will launch on Xbox One, PlayStation 4, and PC on November 27th.
Previous entries in the series having followed the adventures of Death and War, and Darksiders 3 turns the spotlight on the third Horseman of the Apocalypse, Fury, Rider of the Black Horse - which just leaves Strife (the final horseman in Darksiders lore) to take on protagonist duties if THQ Nordic opts for a fourth game.
"The Charred Council calls upon Fury to battle from the heights of heaven down through the depths of hell in a quest to restore the balance between good and evil," explains the publisher, "and prove that she is the fiercest of the four horsemen. Fury is a mage, her form evolving throughout gameplay and with it, her powers and weaponry."
Darksiders 3 looks to follow the same Zelda-meets-hack-n-slash action adventure template of its predecessors, and hopes are high for another strong entry in the series, given that many members of the team at Gunfire Games worked on the first two Darksiders at Vigil.
If you're suitably enticed by Darksiders 3, THQ Nordic is touting a range of purchasing options in the run-up to the game's launch on November 27th.
Alongside the standard edition, there's the £129.99/$149.99 USD Collector's Edition which includes an 11-inch Fury figure, art book, soundtrack, game, steelbook case, and "exclusive armour DLC". Alternatively, there's the Apocalypse Edition, which adds three ten-inch figures on top of that (Fury, War, Death, and Vulgrim in total), plus a Horsemen Amulet, and a wall scroll. That one, however, will set you back an eye-watering £349.99/$399.99 USD.