THQ Nordic details Darksiders 3's post-launch DLC plans
The Crucible and Keepers of the Void incoming.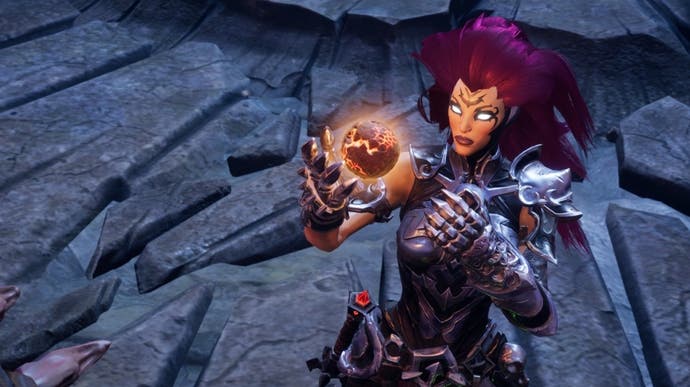 THQ Nordic has outlined its post-launch DLC plans for Darksiders 3, Gunfire Games' continuation of Vigil Games' well-regarded hack and slash action-adventure series.
Darksiders 3, which chronicles the escapades of Fury, the third Horseman of the Apocalypse, comes to PC, Xbox One, and PS4 on November 27th. It'll be followed by two separate DLC drops - each of which, according to THQ Nordic, will feature "new playable areas... new challenges, puzzles, items and enemies".
DLC pack one, known as The Crucible, takes Fury on a journey to the mysterious location of the title - her presence "requested by a strange entity wishing to test her skills in battle". This one's a Horde-Mode-style affair, with players up against "wave after wave of enemies". Success in combat will unlock new rewards and items.
Darksiders 3's second DLC pack, Keepers of the Void, sees Fury heading into the Serpent Holes at the behest of demon merchant Vulgrim. Apparently an ancient threat is making a nuisance of itself inside and players will need to get rid. This one sounds like the meatier of Darksiders 3's DLC episodes, and promises "new puzzles and enemies eager to test Fury's abilities". Completing its challenges will unlock new weapons and the Abyssal Armour.
There's no release date for either of these post-launch DLC packs just yet, but both are included as part of Darksiders 3's physical Apocalypse and Collector's Editions, and in the digital Deluxe Edition. Presumably, owners of the standard edition will be able to purchase The Crucible and Keepers of the Void separately (or as part of a Season Pass) closer to release, but THQ Nordic hasn't said as much just yet.