Official E3 website listing points to new Darksiders game reveal at this year's show
Supposedly taking franchise "in a fresh direction."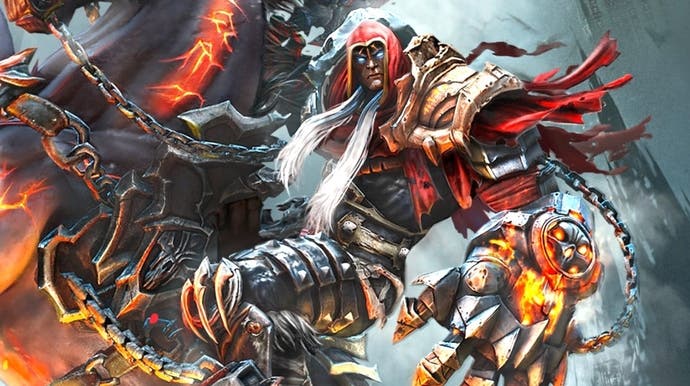 Darksiders 3 has only been out six months, but further evidence has surfaced pointing to a new entry in the apocalyptic action series being revealed at this year's E3.
Hints of a new Darksiders first emerged during THQ Nordic's ill-fated 8Chan AMA via an image supposedly leaking the publisher's E3 lineup. And now further mention has been spotted on an official schedule for this year's E3 Coliseum - a three-day series of panels by publishers and developers for all show attendees.
Head over to the event calendar, hop to Thursday, 14th June, and cast your eyes downward to the 10:30am slot - where a panel titled Darksiders: Action Adventure Evolved is set to unfold.
According to the site's blurb, this particular presentation will focus on the "art and business of creating and maintaining an action adventure franchise rich in-game and corporate lore". And while, no, I don't have a clue what "corporate lore" is either, the more pertinent part of the description notes that the panel "will coincide with the E3 2019 unveil of a brand new Darksiders game that takes the franchise in a fresh direction."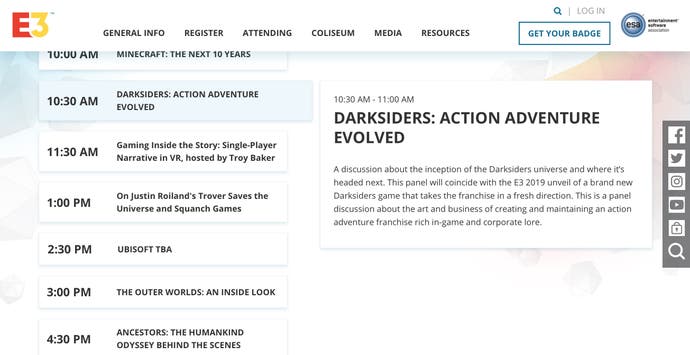 All of which sounds as close to official confirmation of a new Darksiders game as possible without it tumbling straight out of THQ Nordic's own gob. And let's face it, a new instalment for Darksiders wouldn't be a complete a surprise. Despite a middling critical reception for Darksiders 3, the game did well enough at launch for the publisher to specifically call it out during February's financial results.
At the time, THQ Nordic noted that Darksiders 3 had "performed within management's range of expectations and has recouped all investments made in development and marketing during the quarter", and called the series "one of the Group's key IPs."
Of course, with E3 2019 kicking off in a little over a week, there isn't long to wait until we find out precisely what THQ Nordic has in store for Darksiders - and the many, many other beloved IPs it's hoovered up in recently years. And if someone could pop in some word about a new Alone in the Dark please, that would be great too.