"I do not condone child pornography, white supremacy, or racism"
UPDATE: THQ Nordic group-CEO offers "sincerest apologies and regret" over marketing stunt.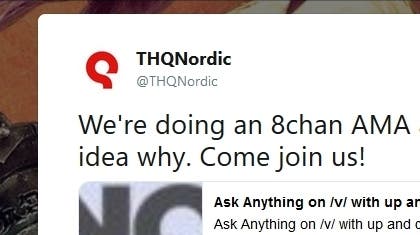 UPDATE 4/3/19: Following THQ Nordic GmBH's decision to host an AMA on hugely controversial website 8chan last week, co-founder and group-CEO of parent company THQ Nordic AB, Lars Wingefors, has offered his "sincerest apologies and regret" over the marketing stunt.
In a statement addressed to employees, partners, and consumers, Wingefors wrote, "This letter is to offer my sincerest apologies and regret for THQ Nordic GmbH Vienna's interaction with the controversial website 8chan last Tuesday, February 26. I condemn all unethical content this website stands for. Even if no one within the THQ Nordic Group would ever endorse such content, I realize simply appearing there gave an implicit impression that we did.
"As Co-Founder and Group CEO of THQ Nordic AB, I take full responsibility for all of THQ Nordic GmbH's actions and communications. I have spent the past several days conducting an internal investigation into this matter. I assure you that every member of the organization has learned from this past week's events. I take this matter very seriously and we will take appropriate action to make sure we have the right policies and systems in place to avoid similar mistakes in the future.
"As a Swedish based, fast growing group, we firmly support equality and diversity. We are also working actively to combat discrimination, harassment, and misconduct. We are already in the process of developing new work processes, based on the United Nations' SDGs (Sustainable Development Goals) and using the GRI (Global Reporting Initiative) standards, and we will accelerate this work going forward."
---
ORIGINAL STORY 27/2/19: Last night, THQ Nordic PR and marketing director Philipp Brock hosted an open AMA discussion on 8chan, an imageboard blocked by Google for hosting child sex abuse images, and well known for its acceptance of hate speech and abuse.
Brock used the official THQ Nordic Twitter account to invite fans of the publisher's franchises - series like Darksiders and de Blob as well as recently-acquired properties like Kingdoms of Amalur and TimeSplitters - to the site, where he promptly began answering questions.
One 8chan user asked Brock about "lolis" - referring to drawn images of sexualised children. Accompanying the post was an illustration of two girls having their breasts touched by an adult man. "You got them already we'd say," Brock responded.
"Please don't censor any games nor appeal to the SocJus crowd," wrote another user. "Thanks, we'll try to stay that way," Brock replied.
Half an hour in, Brock responded to a growing tide of disbelief on Twitter.
"The opportunity was here and we took it, we got approached in a very friendly and polite manner and were assured, said person (shoutout to Mark) will take care of the nasty stuff. So here we are." And so Brock continued with the AMA.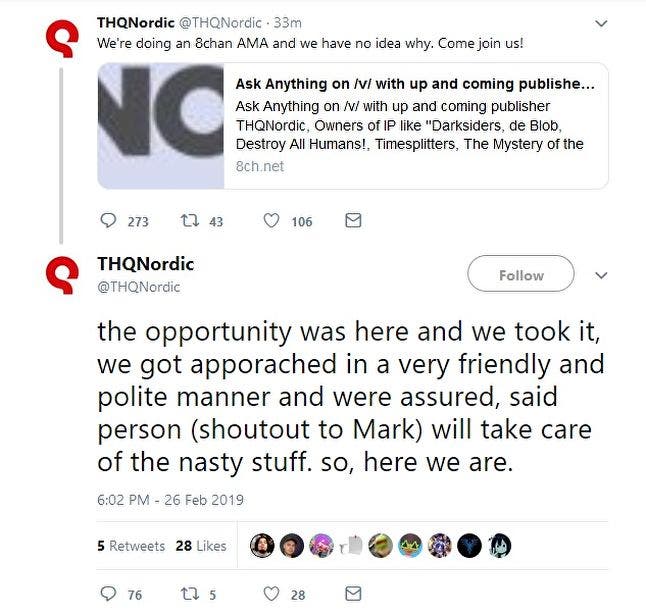 Two hours in, Brock had stopped posting and was now using the THQ Nordic Twitter account to broadcast a hastily-worded apology.
"I personally agreed to this AMA without doing my proper due diligence to understand the history and the controversy of the site. I do not condone child pornography, white supremacy, or racism in any shape or form," he wrote.
"I am terribly sorry for the short-sightedness of my (!) decision, and promise to be far more vigorous in my assessment of these activities in the future.
"This was not about being edgy, this blew up and I very much regret to have done it in the first place.
"Philipp Brock, PR & Marketing Director THQ Nordic GmbH (Vienna, Austria)"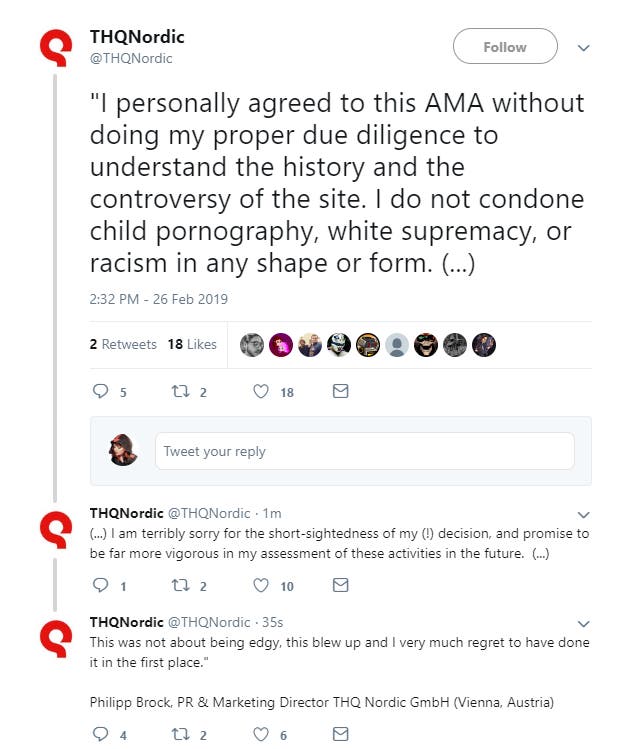 THQ Nordic is yet to comment on the matter further, but I've contacted the company this morning for more.
Brock does not explain why he failed to "do proper due diligence" researching 8chan, yet simultaneously knew someone at 8chan would need to "take care of the nasty stuff".
Brock does not explain why he engaged with users discussing and posting "loli" images.
Brock does not explain why he engaged with users posting about the "SocJus crowd" on a website used to mount notable campaigns of harassment.
For its part, THQ Nordic has not explained why someone who thought any of this was a good idea continues to be at the helm of the company's PR and marketing division.
This morning I spoke with Anton Westbergh, boss of Goat Simulator studio Coffee Stain. Both THQ Nordic GmBH (where Brock works) and Coffee Stain are owned by mother company THQ Nordic AB. I asked him how he felt about his studio being linked with the wider THQ Nordic name today.
"Just to be very clear: we publish our own games under the Coffee Stain brand," Westbergh began.
"Regarding whatever is going on in THQ Nordic GmbH, they clearly made a mistake. I don't know how they came to the conclusion this would be a good idea."
Coffee Stain has been busy making the distinction clear on Twitter, also:
hi for absolutely no reason at all i thought itd be a great idea to share the THQ Nordic company structure that i didnt just whip up in paint 5 minutes ago

pls note that there are 2 THQ Nordics pic.twitter.com/2Jpn2OfmGY

— Satisfactory 🌟 (@SatisfactoryAF) February 27, 2019
Until an hour ago, THQ Nordic's Twitter account was still linking users to Brock's 8chan AMA. The tweet has now been deleted.
Right now, 8chan's front page displays threads on Nazism, "rational" anti-semitism, and the current India/Pakistan military tension described using racist terms.
Popular image boards linked to from the front page include "loli", and "zoophilia".