Crytek's multiplayer bounty hunting horror Hunt: Showdown comes to PS4 next month
And console cross-play is on the horizon too.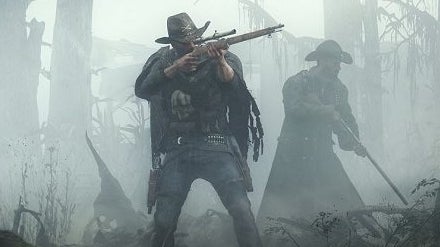 Crytek's atmospheric multiplayer horror romp, Hunt: Showdown, will finally make its way to PS4 on 18th February - and console cross-play is confirmed for a future update too.
Hunt: Showdown initially launched on Steam early access back in February 2018, and an Xbox Game Preview version arrived last May. Both versions saw a full release at the tail-end of 2019, so it's been a fair old wait for those PS4 owners hoping to get involved.
The good news is that Hunt: Showdown's tense, unsettling spin on team-based multiplayer has been well-received. The gist, for those unawares, is that each match sees 12 bounty hunters - working solo or in teams of two or three - set loose across either monster-infested Louisiana swampland or, in the newest map, through an equally atmospheric, ramshackle town.
The immediate goal each game is for bounty hunters to locate and engage a horrifying boss-like entity. Once the boss is defeated, however, and the prize is secured, every other hunter on the map will turn their sights on the victors, in a ruthless bid to secure the winnings for themselves.
Eurogamer contributor Edwin Evans-Thirwell was particularly impressed by Hunt: Showdown's intensely stressful brand of horror when he strode cautiously into its swamps during early access, calling it "one of the year's more fascinating, and upsetting" releases.
As part of its PlayStation 4 announcement, Crytek has offered a few teases of things to come for Hunt: Showdown. Its next update (version 1.2) will, for instance, introduce random teams of three, an advanced tutorial, fixes and performance improvements, plus new Legendary Hunters, items, and weapons. Later in the year, player can expect to see a solo PvE mode, live events, outfit customisation, a new map, plus cross-play between Xbox One and PS4.