Crytek offers a closer look at Hunt: Showdown in its closed alpha tutorial video
Hex education.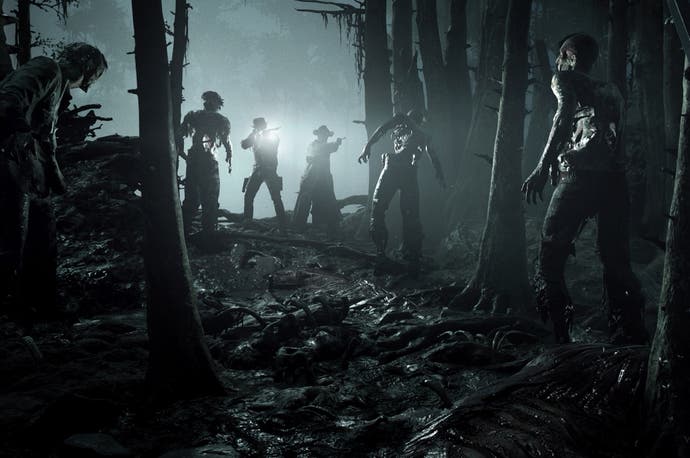 Crytek has released a punchily informative new tutorial video, detailing the basic flow of its promising multiplayer swamp horror Hunt: Showdown.
It's intended as an introduction to the game for those participating in the closed alpha, and while it covers much of the same ground as the ten minute gameplay video released at E3 last year, it throws in a few more specific details on how a hunt will unfold.
It's well worth watching if you've been curious for a slightly more detailed breakdown of the game's mechanics, but the rough version goes something like this: as a match begins, you and a co-op partner are dropped onto the game's atmospheric swamp map, ready to locate the chosen demonic target for the round. As we've been told before, numerous other teams are deposited on the map at the same time, all searching for the same elusive beast.
That immediately results in a frantic clamour to be the first to pinpoint the location of the creature - which, explains Crytek, will always be in one of the dozen or so compounds dotted around the map. Teams are entirely free to explore them one by one if they choose, but it's far more effective to speed up the process by locating 'clues'.
Activating your Dark Sight ability guides you toward a new clue which, once discovered, will reduce the possible target locations on your map.
Once the correct compound has been identified, you need to race over and battle your target - the fight climaxing in a banishment ritual that reveals your location to everyone. Incidentally, should your partner fall at any point during combat, they can be revived, but only once for every bar in their health gauge. When it's empty, they're down for good.
Your reward for banishing a target is a loot token - one for each member of your team. Successfully carrying these to an exit point and escaping will increase your final rewards.
Unfortunately, it's at this point that the tables turn and every other team descends on you in a bid to steal your tokens and bounty. A token's position is visible on the map and via an enormous beacon in the sky, making your secretive escape that much more difficult.
Everyone that survives a hunt can upgrade their hunter post-match, increasing its hit points or traits. You might also stock up on consumables or a new weapon if you have the money.
Anyone that dies, however, will keep their cash and a small amount of XP, but will lose their character and all progression - aside from a general stat known as Bloodline that unlocks new gear and traits as it grows. After that, it's back to the hunt for another go.
Hunt: Showdown's closed alpha began on January 31st, and Crytek has said that it will slowly open it up to more participants (register to take part here) prior to Steam Early Access.