Multiplayer swamp horror Hunt: Showdown is free to try this weekend on Steam
And there's 20% off too.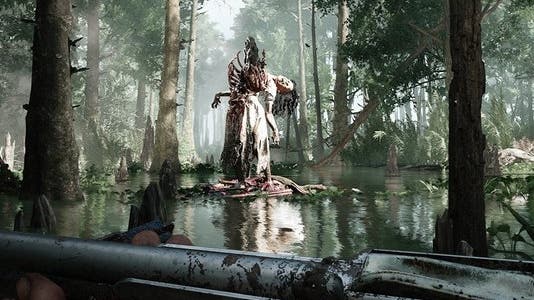 Crytek's atmoshpheric multiplayer swamp horror Hunt: Showdown is free to try this weekend on Steam.
Hunt: Showdown, which launched on Steam early access earlier this year following several months in closed alpha, is a moody, first-person affair, blending elements of PvE and PvP into a single, compelling premise.
As each match begins, teams of either solo or duo bounty hunters are set loose across gloomy, monster-infested Louisiana swampland, all with the same objective: to be the first to locate and eliminate a particularly large, especially unpleasant hellbeast.
Things ratchet up a gear, however, once the monster is slain and the bounty is won; from that point on, the winning team becomes the new target and must ready its escape, with all remaining hunters now able to track and kill the victors, in a bid to steal their spoils.
If you're sufficiently tempted to get involved, and fancy spending the weekend up to your knees in monsters and mud, Hunt: Showdown is free to download and play right now on Steam.
The free weekend comes to a close on Monday, August 13th, at 6pm in the UK/10am PT, and Crytek notes that Hunt: Showdown can be purchased at a discount of 20% for the duration of the event. It's currently priced at £20.79, down from £25.99.