CD Projekt shows off first footage of Cyberpunk 2077 running on consoles
Specifically, Xbox One X and Series X.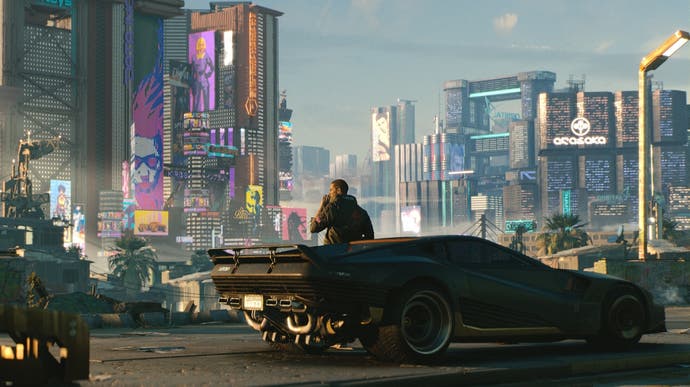 Despite being a little under a month away from release, we've yet to see CD Projekt's enormously anticipated Cyberpunk 2077 running on anything other than PC, but that's finally now changed courtesy of new gameplay powered by Xbox Series X and Xbox One X.
CD Projekt's latest footage spans a diverse range of activities, showing off everything from in-car traversal across Cyberpunk 2077's striking rain-slicked city to quieter moments of interior exploration, alongside a few snippets of first-person combat.
Throughout the video, viewable below, the action cuts between current-gen, courtesy of Xbox One X, and next-gen, as represented by Microsoft's Xbox Series X. I'm certainly no Dave Foundry though, so I'll leave the technical analysis to the experts, but it's reassuring to see Xbox One X, while perhaps comparatively wobbly at times, still capturing the ambience delivered by its more powerful sibling - even if we didn't see much in the way of expansive exteriors on the console, and even if the gulf between the two versions is likely to widen substantially when CD Projekt launches its much-touted 'proper' next-gen update some time next year.
Admittedly, it's a shame CD Projekt opted to demonstrate the game's current-gen credentials on the already beefy Xbox One X, rather than the base Xbox One or PlayStation 4 - particularly given development for the latter two machines is said to have contributed to Cyberpunk 2077's most recent delay - and PlayStation fans will no doubt be a little disappointed not to see Cyberpunk 2077 running on either of Sony's consoles.
Still, with three weeks to go until Cyberpunk 2077's 10th December launch, CD Projekt still has time to answer any remaining questions and crank that hype handle just a little bit tighter.