CD Projekt gives free copy of Cyberpunk 2077 to guy who shouted "you're breathtaking!" at Keanu Reeves
Whoa.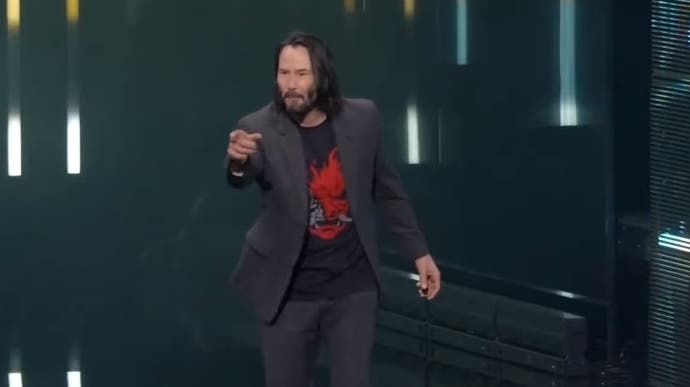 CD Projekt has said it will send a free copy of the Cyberpunk 2077 Collector's Edition to the guy who shouted "you're breathtaking!" at Keanu Reeves during Microsoft's E3 2019 media briefing.
Perhaps the highlight of Microsoft's briefing - perhaps even the highlight of E3 2019 so far - was when the Matrix and John Wick star popped out on-stage to reveal he is set to appear in the hotly-anticipated game.
While talking on-stage, Reeves called Cyberpunk "breathtaking". Thinking on his feet, the guy in the crowd shouted, "You're breathtaking!" Reeves heard - as did we all - pointed at the chap in question and responded in kind: "You're breathtaking! You're all breathtaking!" Cue cheers and clapping from the crowd at the heartwarming, joyous moment.
The person who shouted "you're breathtaking" is Peter Sark, an Xbox-focused YouTuber from the Los Angeles area. Sark tweeted a video of the exchange, which has had over 70,000 views.
CD Projekt took note, and replied with the good news.
The reaction to the whole thing has been pretty awesome - and yes, the memes are in full force.
While the Keanu Reeves "breathtaking" moment went down brilliantly, people screaming at E3 press conferences can also be a bad thing. If you watched Bethesda's E3 2019 media briefing last night, you'll have heard the screams of a chap near the front who took his enthusiasm a little too far.
The unnamed Bethesda cheerer screamed bloody murder throughout the conference, and it was clear it got to some of the Bethesda employees who were on-stage doing their best to cope with what undoubtedly a nerve-wracking experience.
So while I'm happy for Sark, who is going viral as we speak, I hope this episode doesn't encourage more Bethesda screamers!