Batman: Arkham Knight's Limited Edition has been delayed
Amazon still distributing download codes, bonus goodies to follow.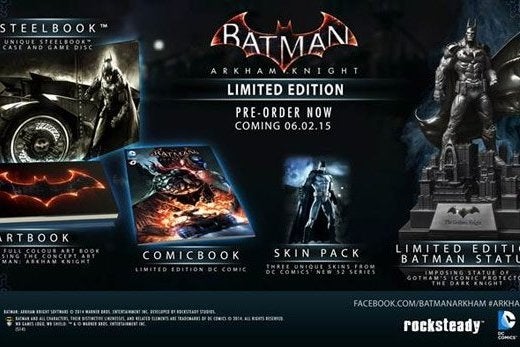 UPDATE 19/06/2015 9pm This delay appears to be the case with Gamestop's Limited Edition as well (which also includes the Batman statue), at least in Finland. And like Amazon UK, Gamestop will be sending download codes to appease those affected.
ORIGINAL STORY 19/06/2015 5.30pmEarlier this week we discovered that Batman: Arkham Knight's £170 Batmobile Edition was unceremoniously cancelled due to the shoddy craftsmanship of its titular transformable figurine and now it looks like there's an issue with the regular Limited Edition as well.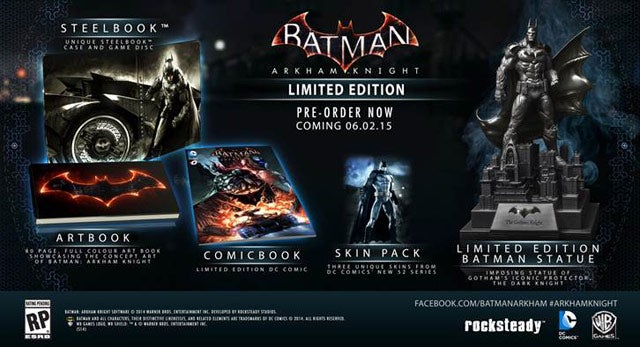 An email obtained from multiple Eurogamer readers who purchased the £80 Amazon-exclusive Limited Edition explained that their order "will be delayed as the manufacturer has advised us that there's been a packaging quality issue."
"We want to ensure that your order reaches you in pristine condition and your item, with the updated packaging, should be with you no later than 14 July, 2015," the automated reply added.
But it's not all bad news, as Amazon will be emailing customers download codes so they can still enjoy the game upon its 23rd June release.
For reference, the extra goodies in Batman: Arkham Knight's Limited Edition include:
80 page custom art book - 80 Page, Full Colour Art Book Showcasing the concept art of Batman Arkham Knight.
Unique SteelBook case and game disc.
Limited Edition DC Comics Batman: Arkham Knight #0 Comic Book.
Exclusive Character Skin Pack, which includes three unique skins from DC Comics' The New 52.
Batman memorial statue.
Our Batman: Arkham Knight walkthrough is live now.