Batman: Arkham Knight's £170 Batmobile Edition has been cancelled
Due to "unforeseen circumstances" with "the quality of the Batmobile."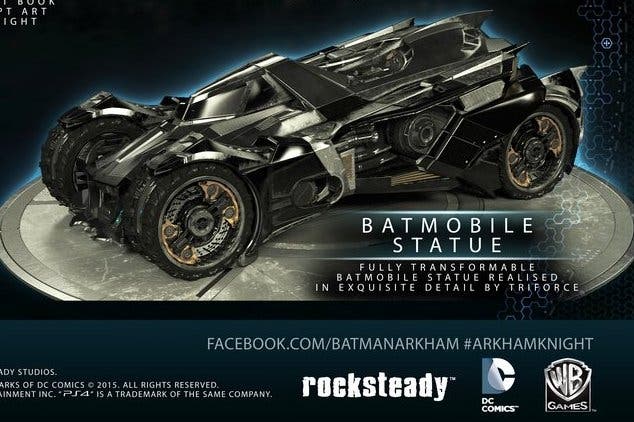 The ludicrously expensive Batman: Arkham Knight Batmobile Edition has been cancelled.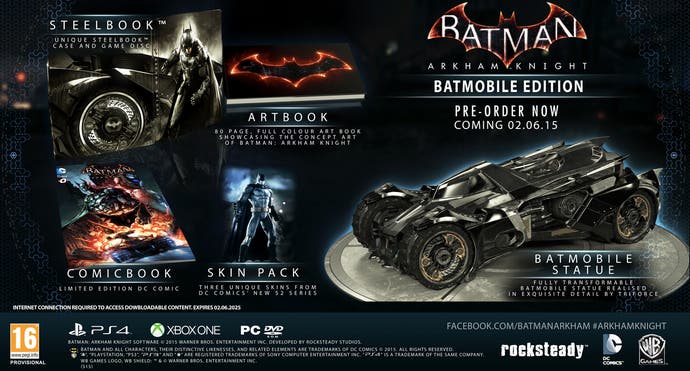 At least that's the word coming from some of our readers, along with a poster at NeoGAF, after getting an e-mail from their local GAME retailer explaining the situation. Apparently it has to do with the poor quality of its transformable Batmobile figurine.
"Regrettably, due to unforeseen circumstances that greatly compromised the quality of the Batmobile, included within the Batman Arkham Knight Batmobile Edition, Warner Bros has decided not to release this product," GAME stated in its email to customers.
That may come as quite a blow for the superfans who chose to shell out £169.99 for this extravagant bundle.
On the plus side, those affected are receiving their money back, obviously, along with a £20 discount on the Batman Red Hood Edition, a GAME exclusive. This bundle comes with the Red Hood and Harley Quinn Story Packs. It's typically £49.99, but with the store credit jilted Batfans can snag it for £29.99.
What they won't receive is the rest of the Batmobile Edition's goodies. These include:
80 page custom art book - 80 Page, Full Colour Art Book Showcasing the concept art of Batman Arkham Knight.
Unique SteelBook case and game disc.
Limited Edition DC Comics Batman: Arkham Knight #0 Comic Book.
Exclusive Character Skin Pack, which includes three unique skins from DC Comics' The New 52.
Batman memorial statue.
One could get all of these in the £89.99 Batman: Arkham Knight Limited Edition, but that doesn't seem to be showing up on GAME's online store, so one would assume it's run out of stock. It's also unavailable on Amazon UK.
Batman: Arkham Knight will be out on 23rd June for PS4, Xbox One and PC.
If you need a little help working through the game, our Arkham Knight is live now.