Batman: Arkham Knight gets a June release date
£169.99 Batmobile Edition includes a transforming Batmobile statue.
Batman: Arkham Knight - the fourth game in the Arkham series and the conclusion to the trilogy helmed by Rocksteady - is coming to PS4, Xbox One and PC worldwide beginning on 2nd June 2015.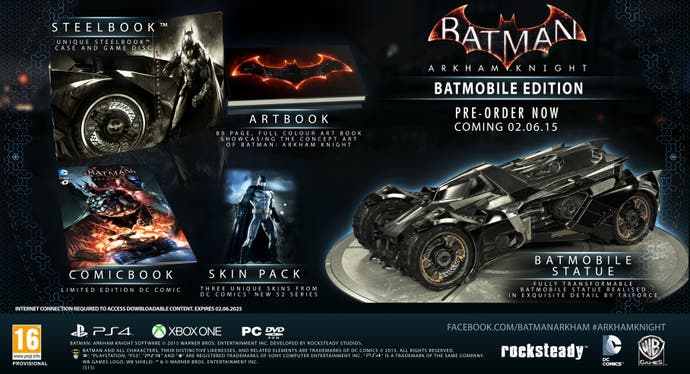 The highly anticipated sequel will come in two collector's editions: the Limited Edition that goes for £89.99 on consoles and £74.99 on PC, or the even more ludicrously expensive £169.99 Batmobile Edition.
The Batman: Arkham Knight Limited Edition includes the following:
·
80 page custom art book - 80 Page, Full Colour Art Book Showcasing the concept art of Batman Arkham Knight.
·
Unique SteelBook case and game disc.
·
Limited Edition DC Comics Batman: Arkham Knight #0 Comic Book.
·
Exclusive Character Skin Pack, which includes three unique skins from DC Comics' The New 52.
·
Batman memorial statue.
Meanwhile, the Batman: Arkham Knight Batmobile Edition includes all the same, but replaces the Batman memorial statue with a fully transformable Batmobile model. It's not cheap, but it sure is snazzy if that's your cup of tea.