Bastion DLC expansion announced
Stranger's Dream free on PC, 80 Points on XBLA.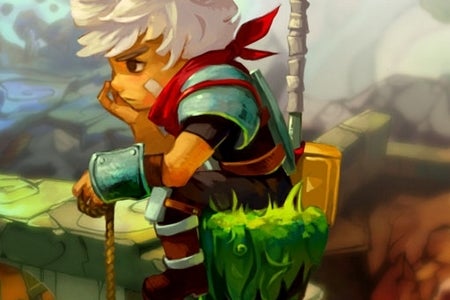 Acclaimed indie action RPG Bastion gets a new DLC expansion on 14th December.
Titled Stranger's Dream, it adds a new, fully-narrated Who Knows Where sequence that expands Rucks' story and offers more background on Caelondia. See the new screenshot below for a closer look.
There's also a new Score Attack Mode that rates your combat efficiency as you play through the main quest.
Finally, developer Supergiant Games has added a No-Sweat Mode which gives players looking for a smoother ride unlimited chances to carry on from where they left off if defeated in battle.
"One of the most frequently asked questions we got since Bastion's release this summer is, will there be any DLC for the game?" commented co-creator Greg Kasavin on Supergiant's website.
"We've brushed it aside, stating that we designed Bastion to be a complete, stand-alone experience and would never seek to extend the story through DLC. All this is true.
"HOWEVER! In the weeks following the release of the game, we decided to put a little something together for the holidays as a show of thanks to our fans. So, on December 14, we'll be pleased to bring you the Stranger's Dream DLC for Bastion, which should give you some good reasons to come back to the game while preserving the core experience just as we intended."
The pack is free to download on Steam, but will Xbox 360 patrons will have to open their wallets.
"The Stranger's Dream DLC will be available for 80 Microsoft Points ($1) on XBLA, which we can't make free due to Microsoft policy, so it's about as close as we could get. Though, since you'll be getting at good chunk of new content, we think you'll be satisfied with your purchase," explained Kasavin.
Bastion launched back in July as part of Microsoft's annual Summer of Arcade promotion.
"Bastion may have you tugging at its threads to decipher your role and meaning, even as you return for a second go-round - but you're unlikely to question the choice you made to buy it," wrote Tom Bramwell in Eurogamer's 8/10 Bastion review.