Assassin's Creed Valhalla now offers 30fps next-gen performance option
That should help the screen Tyr.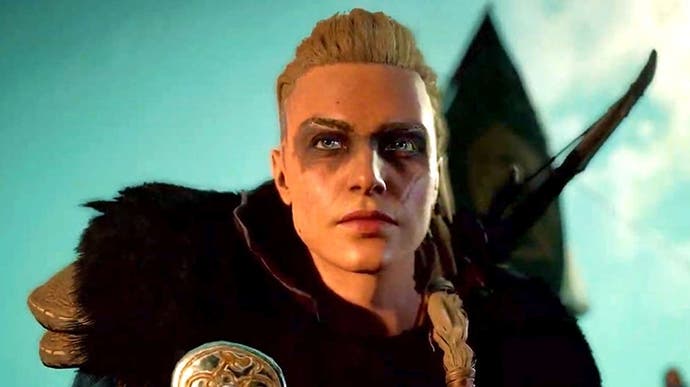 Ubisoft will today release its first post-launch patch for Assassin's Creed Valhalla, bringing the game to version 1.0.4.
It includes bug fixes, quality of life updates and, perhaps most importantly, options to manually choose between performance and visuals on Sony and Microsoft's new consoles.
These options, available on PlayStation 5 plus Xbox Series X and S, will "adapt the resolution and graphics settings to maintain 60FPS" for Performance mode, or "enable the game to run maximum resolution and graphic settings while maintaining 30FPS" for Quality mode.
PS5 and Series X versions of Valhalla will be set by default to Performance mode. Series S will be set by default to Quality mode.
All this is in addition to "improved stability and performance" generally, and specific improvements to "improve experience on Xbox Series S/X consoles including screen-tearing". I really struggled with screen-tearing when playing Valhalla on Series X for review - so I'm keen to see how well the issue is fixed now. It's also something Digital Foundry delved into for its own Valhalla analysis.
Elsewhere in the patch, cloud-saved games will be better highlighted and you'll be alerted where the retrieval of one has failed.
Odin Sight will now highlight a larger radius of enemies and keep them highlighted longer, while your raven will reveal keys at a farther distance. It's not a return to the previous behaviour offered by Origins and Odyssey's eagles, but it may help.
Commonly-reported bugs experienced by Valhalla fans have been fixed, such as the ability to run out of fabric before you had upgraded everything.
Ubisoft has also made changes to the game's Codex, which was previously able to spoil some story reveals.
Finally, NPCs will now react to you stealing - something I was rather enjoying them not doing, after continually getting caught red-handed in earlier games. The full patch notes are over on Ubisoft's forum.