Apex Legends cross-platform release date, how to add friends and cross-platform lobbies explained
How different players will mix together - and the latest on cross-progression.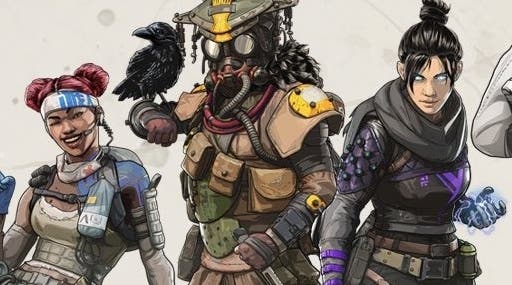 Apex Legends cross-platform support was one of the most frequently asked questions when the free-to-play shooter was released.
Between Apex Legends releasing on multiple platforms at once, the battle royale genre having previous form for offering cross-platform multiplayer (see Fortnite) and it being very popular, everyone is eager to complete alongside friends regardless of their system of choice.
The good news is cross platform play for Apex Legends is happening - here's how it works.
On this page:
Apex Legends cross-platform release date: When will Apex Legends get cross-platform multiplayer?
Apex Legends will have cross-platform multiplayer from Tuesday, October 6th. This is the same day as the Aftermarket Collection event.
Though it will be rolling out as a beta initially, with developer Respawn not setting an end date for the feature, for all intents and purposes cross-platform could be here to stay.
Cross-platform multiplayer was teased before the launch of the game. In an interview with Eurogamer, Respawn explained cross-platform multiplayer was in the works.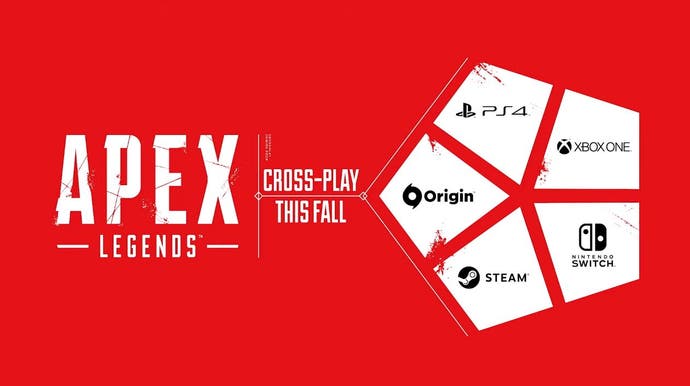 This was updated with a reveal at EA Play 2020, confirming cross-platform play would be coming to PS4, Xbox One, PC and the newly arriving Switch version.
How Apex Legends's cross-platform multiplayer works
Cross-platform multiplayer in Apex Legends works as follows:
Cross-platform play will be enabled by default.
In matchmaking, console will play against one another, and PC players will only play with PC players. "We want to ensure that keyboard and mouse PC players are not being matched against console players, for reasons that should be obvious," Respawn said.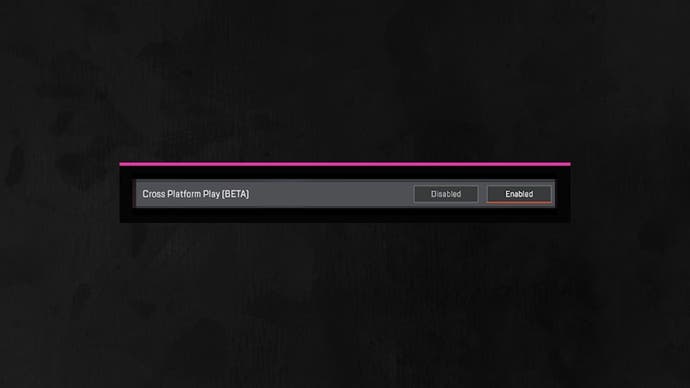 If a party is a mixture of PC and console players, then they will be matched in the same pool as PC players. "This ensures that the console games don't have PC players in them, but still allows for the console player to play with their PC friend if they opt-in."
It is possible to disable cross-platform matchmaking - which can be done in the settings menu, or on Xbox, in a "similar setting in the system settings, outside of the game". Doing so, however, means there's a "high chance of making your queue times very very long" - as it's likely most other players will be playing in mixed lobbies.
You can use in-game voice chat across platforms.
To play with someone on another platform, you must add them as a friend in-game first - see the next section on how this works.
How to add friends in Apex Legends's cross-platform multiplayer
With cross-platform multiplayer working by default, you just need to add them as friends, and then join their party. Here's how to get started:
Go to friends and select 'Find Friend', then search for their username, and send the request. They will then get a notification where they can accept the request.
Once you are friends, they will appear in your friends list, regardless of platform. Their currently-played platform will also be mentioned in the friends listing - useful so you know you're going to enter a console-only or PC lobby ahead of time.
You must then send them an invite through this friends list for them to join your party. Note if they are on a different platform, the invite notification will only appear in-game, and not on a system-level (i.e. through Xbox Live, PSN, or Origin) - so make sure you don't miss it.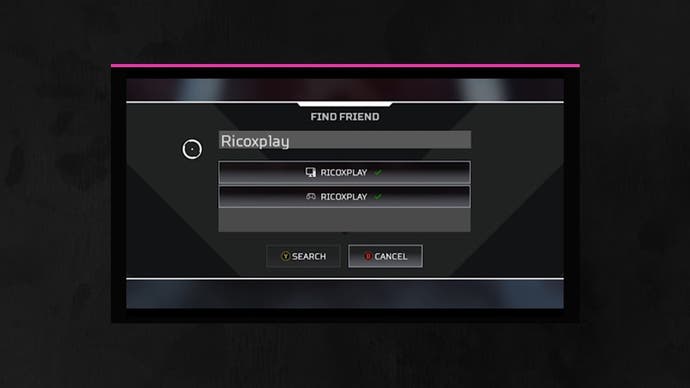 ---
Want to know the best Legend for this Season? Check out our Apex Legends Season 16 Legend Tier List that details who's the best for Revelry and why. Our other guides can show you how to make a Private Match and explain what Ring Consoles are. Also, take a look at our Veiled collection event page to learn about the latest limited-time event.
---
Will Apex Legends offer cross-progression or cross-purchases?
Though Apex Legends supports cross-platform play, your account and progress will still be restricted to each individual platform.
What this means in practice is, your unlocks, purchases and stats will be restricted to each individual platform, so you cannot start on PS4 and then access the same account details on PC. So before you make any serious time or money investments with the game, make sure you pick the platform you'll be happy with long term.
At launch, lead producer Drew McCoy told Eurogamer the feature wasn't in the works: "Unfortunately we won't ever be able to do cross-progress or cross-purchases, which is a bummer, but due to the way systems were set up early on we can't reconcile it after the fact."
However, as part of the cross-platform beta announcement, Respawn provided the following update which suggested it might be possible one day: "While we do believe this is a valuable feature, it's unfortunately not available for Apex Legends at this time. However, we will talk more about this at our Steam launch later in the year."