Anger over lack of local co-op in Resident Evil Revelations 2 on PC
UPDATE: Capcom apologises, offers refunds.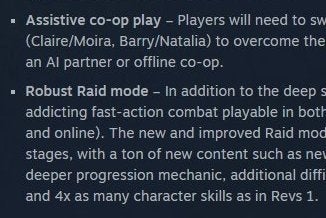 UPDATE 26/02/2015 9.51pm: Capcom has issued the following apology to those who purchased Resident Evil Revelations 2 on Steam with the expectation that it would have local co-op, as the Steam page originally promised:
"We apologise to our Resident Evil Revelations 2 PC players who purchased the game and expected to have local co-op as a feature. The feature wasn't intended for this version and that caveat was mistakenly omitted from the product description on the Steam page earlier, and then included as soon as we were made aware. This was an unintentional error and again, we apologise for the confusion this may have caused.
We are currently looking into the matter and potential solutions and we hope to have new information to share very soon, so please stay tuned. Thank you for your patience and understanding.
According to PC Gamer, a Capcom rep confirmed that refunds are now being offered to those seeking them.
ORIGINAL STORY 25/02/2015 11.59am: Owners of the PC version of Capcom's action horror game Resident Evil Revelations 2 have discovered that, unlike the console versions, it does not include local co-op - despite advertisements claiming it would.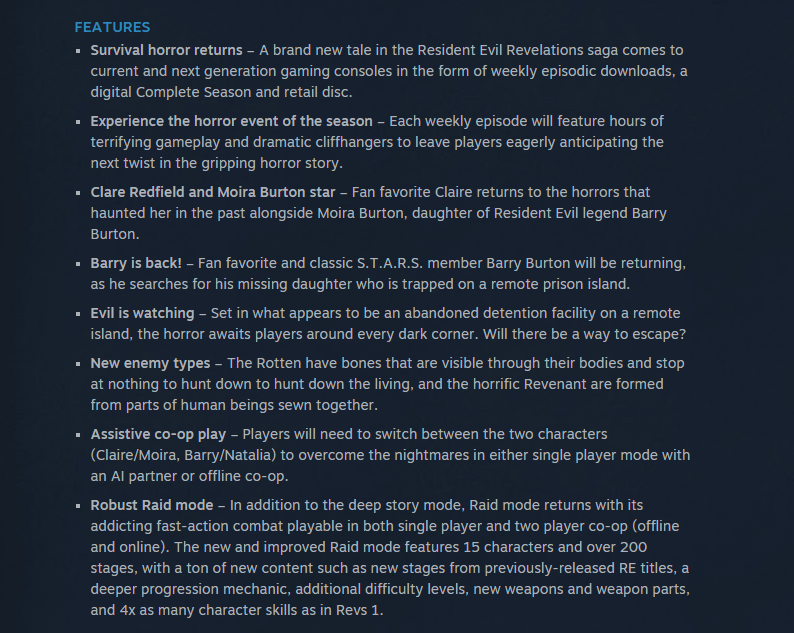 The game's Steam page had promised offline co-op as part of a bullet point list of features. However, the Steam page was recently amended to state the PC version does not support offline co-op play in the Campaign or Raid mode. (Raid mode, it should be noted, will support online co-op shortly after launch via a patch.)
Confusingly, the "assistive co-op play" bullet point that mentions offline co-op remains on the Steam page.
So what happened? A Capcom UK spokesperson told Eurogamer it made the decision "to ensure a stable user experience across a variety of different PC settings and devices".
Here's Capcom's statement in full:
The statement confirms Capcom has no intention of adding local co-op to the main campaign of the PC version of Resident Evil Revelations 2, and with with many running their PCs through their living room TVs these days, this is a problem. Now, as you'd expect, some who bought the PC version while under the impression it would have local co-op have called for refunds.