Resident Evil Revelations has exclusive retro mini-games on Switch
Oozing charm.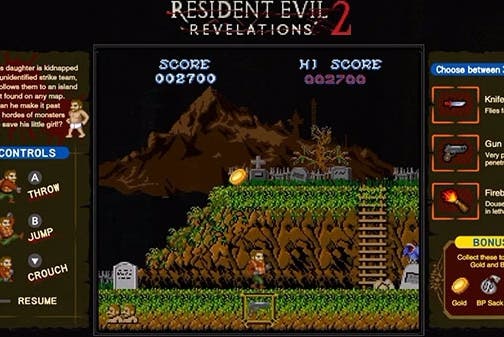 Resident Evil Revelations' upcoming Nintendo Switch re-release includes two exclusive mini-games made to look like retro classics.
The extras were created just for the Switch's upcoming dual-pack of Resident Evil Revelations 1 and 2, due to launch on 28th November.
Ghost Ship Panic tasks you with shooting enemies as they drop down from the top of your Switch screen. The enemies include Ooze, Rachel Ooze and Scagdead foes from Revelations 1.
Ghouls 'n Homunculi, meanwhile, is a Resi version of Ghouls 'n Ghosts. Controlling Resi legend Barry Burton, you explore and fight pixellated enemies. You also lose clothing for each health point lost.
Both games will grant you Battle Points (BP) which then count to your overall total to spend on upgrading or purchasing items from the game's Raid Mode shop.