All 30 Oculus Rift launch titles revealed - each with a "comfort" level
Project Cars! Vanishing of Ethan Carter! Elite Dangerous! More!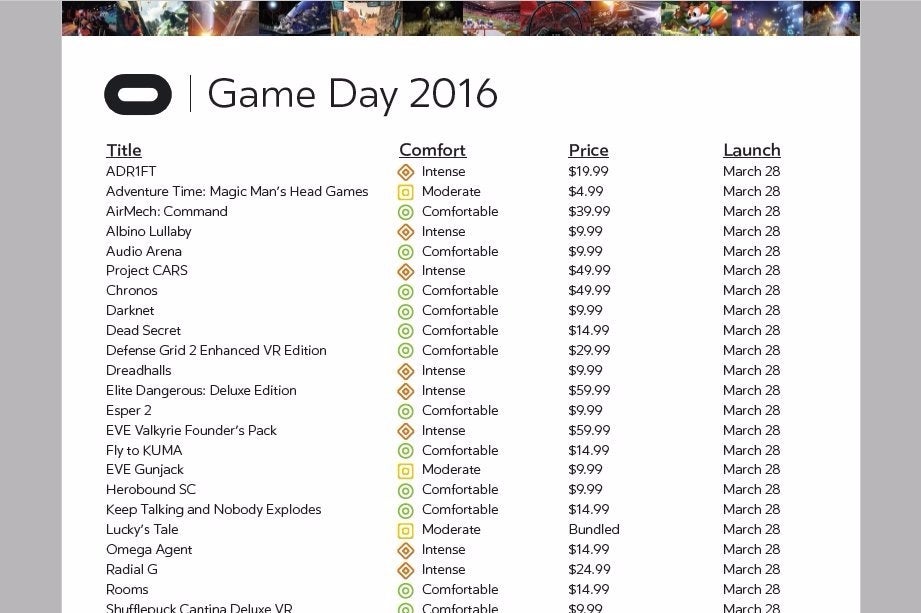 Hot on the heels of Sony's announcement of the price and release month of PlayStation VR, Oculus has confirmed the 30 games that will be available to buy for the Rift headset when it launches on 28th March.
The list, below, includes a couple of surprises: there are Oculus Rift versions of The Astronauts' thriller The Vanishing of Ethan Carter, and Slightly Mad Studios' racing game Project Cars.
Also of note: Oculus includes a "comfort" level for each game, which should act as a useful guide for those concerned about motion sickness.
There are three levels of comfort: "intense", "moderate" and "comfortable". Eurogamer editor Oli Welsh, who tried out the Oculus Rift launch games at the Game Developers Conference this week, said intense games are mostly first-person, or third-person with a fast-moving camera such as racing games, moderate games are third-person with a slow-moving camera, and comfortable games have fixed camera that may switch view, but don't move.
Space game Elite Dangerous, for example, is considered intense, probably because of all the spaceship dogfighting involved. Eve Gunjack is labelled moderate. And Pinball FX V2 is considered comfortable.
It's worth pointing out Oculus includes a dollar price for the games, which range from $4.99 right up to $59.99. At the upper end of the scale are space games Elite Dangerous and Eve Valkyrie. The Adventure Time game is $4.99. Lucky's Tale is bundled with the headset.
Now, onto the list. At GDC Oculus showed 41 games, 30 of them launch titles. Games in the works but without a date include Harmonix's Rock Band VR and Insomniac's Edge of Nowhere.