Oculus Quest aims to take VR into the mainstream
Six degrees of freedom.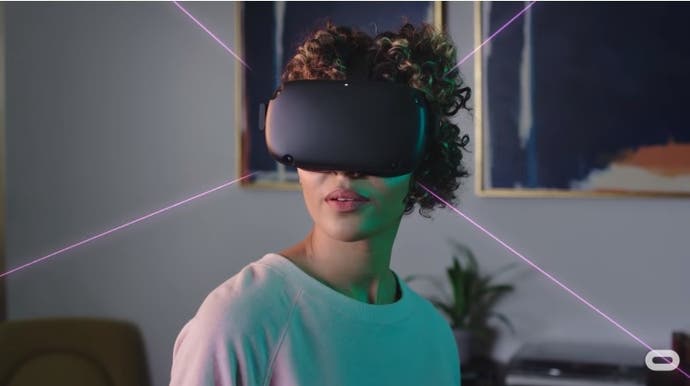 Oculus Quest is a new VR headset due out spring 2019 that its makers hope will appeal more to the mainstream.
It's Oculus' first all-in-one, standalone six degrees of freedom (6DOF) virtual reality headset - and the 64GB version costs $399.
It comes with built-in audio, positional tracking and Touch controllers, and has a display resolution of 1600x1440 per eye with lens spacing adjustment for comfort.
VR is often criticised for the price of entry and fiddly set-up process, with some claiming these barriers to entry have held the technology back from hitting a mainstream market. The idea with Oculus Quest is to break down those barriers, with a relatively cheap price of entry and an easy set-up. Oculus Quest doesn't need a PC, nor does it require wires or any external sensors.
Oculus has over 50 titles lined up for the launch, with Robo Recall, The Climb and Moss in the works for the device.
Oculus also announced Vader Immortal: A Star Wars VR Series for Oculus Quest. This is a three-part Star Wars experience written by David S. Goyer (the first part launches on Oculus Quest in 2019). It's set between Star Wars: Episode 3 and Rogue one, and connects to Star Wars: Secrets of the Empire, the location-based Star Wars experience.
Other Oculus Rift games announced include Lone Echo 2, the sequel to The Order: 1886 developer Ready At Dawn's Lone Echo.