Activision clamps down on Call of Duty: Advanced Warfare "exploit" videos
Says it's doing what it's always done after some claim censorship.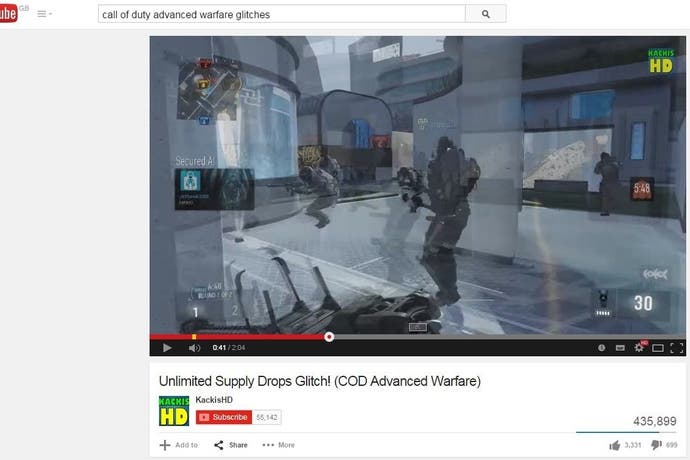 Activision is blocking some Call of Duty: Advanced Warfare YouTube videos it believes promote exploits and cheating.
Last week game network Machinima sent an email out to its partners warning them that Activision was issuing copyright strikes on videos showing Call of Duty glitches.
Here's what Machinima said:
"Activision is being particularly vigilant about their Call of Duty videos lately; issuing strikes on videos showing glitches. If you post videos highlighting these glitches, your channel may be liable to receive a copyright strike so please be careful."
Copyright strikes can seriously damage a YouTube account, whether they're subsequently upheld or rebuked. If you receive one, your account is put into what's called "bad standing", and you lose access to certain YouTube features, which may include the ability to live stream, add custom video thumbnails or set videos to "Unlisted" or "Private".
Eurogamer YouTube Editor Ian Higton says: "The terrifying part for content creators though, is that if you receive three copyright strikes your account will be terminated and YouTube will remove all your videos."
Understandably, a number of Call of Duty YouTubers cried foul following the release of Machinima's email, with some accusing Activision of censorship.
However, in a statement issued to Eurogamer, Activision said it was only taking action against what it calls videos about "cheating and unfair exploits" - and it says it hasn't stepped things up in this regard compared to its work for previous games in the first-person shooter series.
Here's Activision's statement:
"We're excited that so many fans are having fun playing the game and posting videos of their gameplay. We love watching the videos ourselves. Occasionally, some folks post videos that promote cheating and unfair exploits. As always, we keep an eye out for these videos - our level of video claims hasn't changed.
"We are appreciative of the community's support in helping to ensure that everyone has the best playing experience possible."
YouTube videos about Call of Duty glitches, then, are nothing new. And there are plenty online now relating to Sledgehammer's Advanced Warfare.
Some are pretty popular, which you'd expect given they're about how to gain an advantage in Call of Duty's competitive multiplayer. If Activision's copyright strike people are working fast, YouTubers are working faster.