Will Titanfall ever come to PlayStation? Respawn and EA weigh in
"It's definitely not out of the question..."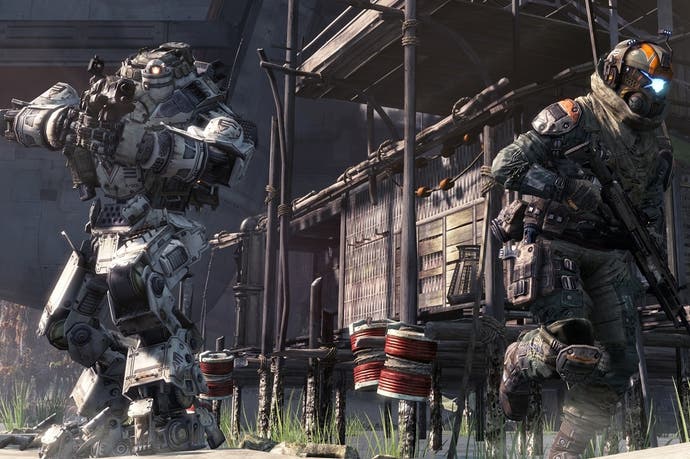 Titanfall, the game from the creators of the Call of Duty series, is coming to PC, Xbox 360 and Xbox One - but not PlayStation 3 or PlayStation 4.
The multiplayer-only sci-fi shooter looks like a great fit for Microsoft's always-online Xbox One, but amid rumours that Xbox exclusivity has been secured for just a year, will Titanfall ever come to PlayStation?
That's the question we posed to both Respawn and publisher EA at E3 this week.
Let's start with Respawn. Lead artist Joel Emslie, who followed Vince Zampella and Jason West out of Activision's Infinity Ward after the pair were fired, told Eurogamer the development team wants Titanfall to be played by as many people as possible.
"When you boil it down, we would love to be everywhere, but we're just starting out," Emslie explained. "It comes down to quality, not quantity. We have a fantastic relationship with Microsoft. It just boiled down to, okay, how can we hit this as hard as can and get it on as many platforms as possible and deliver the quality, the 60 hertz, out of the gate? That was the goal.
"We of course would want to go further in the future with stuff, but we're just starting out. It's pretty frustrating! We want to be everywhere. We want to put Titanfall everywhere, but that's where we're at. We're starting there."
Microsoft's Xbox One is an always-online console and connects to the internet once every 24 hours. It essentially guarantees developers that players will be connected at all times, and games benefit from the 300,000 servers Microsoft has installed to boost Xbox Live.
"We're making a multiplayer-focused game so you want to be online," Emslie added. "It's plain and simple. We're really in love with the Xbox One. Obviously it's more power on a console, and we're going to take full advantage of it."
Let's put it plainly: will PlayStation owners ever see Titanfall?
"It's definitely not out of the question," Emslie replied. "We have a huge appreciation for the fans. Coming out and showing it to everybody, we're super nervous and wanted to make sure everybody loved it. We love all our fans, whatever console they support.
"So yeah. We want to make everybody happy, but this is where we're at right now."
So, from the developer's point of view PlayStation isn't off the table. But as we all know, money talks, and when it comes to money, we're talking about EA, the publisher that helped get Respawn off the ground three years ago.
"Obviously a business relationship between Electronic Arts, Respawn and Microsoft led to this," EA Games Label boss Patrick Söderlund - the executive directly responsible for managing Titanfall - told Eurogamer. "There are always reasons for that, but we can't go into them."
Of course! But, from EA's perspective, will Titanfall ever come to PlayStation, perhaps after Xbox exclusivity has ended?
"We haven't communicated anything on that, and I can't comment on that right now," Söderlund replied, before adding: "We're proud to be exclusive to Xbox."
For now, Titanfall is due out on PC, Xbox 360 and Xbox One in spring 2014.