While we wait, 15 new Grand Theft Auto 5 PC screenshots
Blam.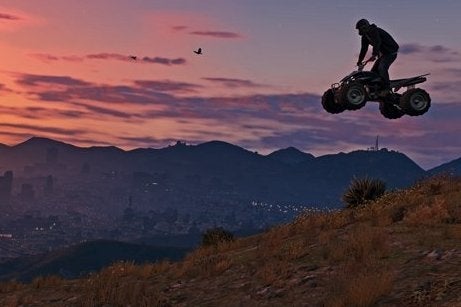 Rockstar has released 15 new screenshots of the oft-delayed PC version of Grand Theft Auto 5.
This week Rockstar once again delayed the PC version of Grand Theft Auto 5, this time to 14th April.
It's the third release date Rockstar has announced for the PC version. It had previously been due to arrive on 27th January, and then on 24th March.
Rockstar said those who pre-order the PC version by 31st March get a bonus $300,000 of in-game cash for GTA Online, on top of the $1.2m all pre-orders of either the physical copy or download copy receive.
The Online Heists mode launches as DLC for the console versions on 10th March, and alongside the PC version on 14th April.
The PC version supports 60 frames-per-second visuals, and up to a 4K resolution, as well as triple monitor configurations. Also included is the Rockstar Editor for editing gameplay clips and publishing them to the developer's own Social Club website and YouTube.
"Our apologies to PC gamers worldwide who have been counting down the days until the launch of the game," Rockstar said this week, "but a bit more time is needed to ensure that the game is as polished as possible, and to make certain that both Heists and the GTA Online experience are ready to roll out on day one for PC."