We Happy Few launches on Kickstarter
Contrast dev's latest, set in psychedelic dystopian 60s Britain.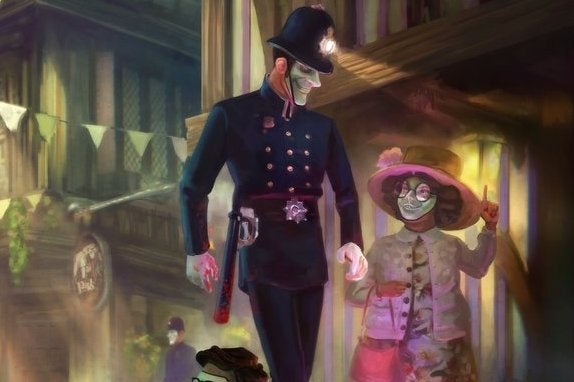 Contrast developer Compulsion Games has launched a Kickstarter campaign for its upcoming psychedelic sci-fi game We Happy Few.
Announced in February, We Happy Few is set in an alternative 1964 England wherein society is addicted to pills called Joy that repress bad memories and block out all unhappy feelings. Who wouldn't want that?
You don't, for one. Playing as a "downer", you'll have to blend in with your cheery neighbors. Fail to obey their rules by not politely greeting your fellow citizens, or breaking into their houses, and they'll identify you as a downer and beat you to a pulp.
The colourful aesthetic brings to mind BioShock by way of Willy Wonka, but We Happy Few differs from Irrational's dystopian 60s sci-fi by placing the game in a procedurally-generated city. Every time you die or complete the game you'll start anew in a fresh version of Wellington Wells.
Throughout We Happy Few you'll have to piece together Wellington Wells' unsavory backstory by exploring the city through multiple perspectives. There will be three characters you can play as, unlocked throughout the story, and each tells their own tale and is equipped with different abilities.
Enemies will be varied with doctors keener to detect your Joy deficiency, Nosey Old Ladies sniffing you out, and Bobbys providing the muscle.
Compulsion is looking for $201,353 to fund the game. Pledge $25 Canadian Dollars to secure a copy of We Happy Few on PC upon its estimated June 2016 release; or snag an early alpha build, due around this July, for $60 CAD.
So far PC is the only confirmed platform, but Mac and Linux releases are on the table as a stretch goal and Compulsion would like to bring We Happy Few to consoles as well.
The We Happy Few Kickstarter runs until 4th July.