Jolly dystopian survival game We Happy Few delays full launch, Early Access to be suspended
Following feedback on 'confusing' price hike.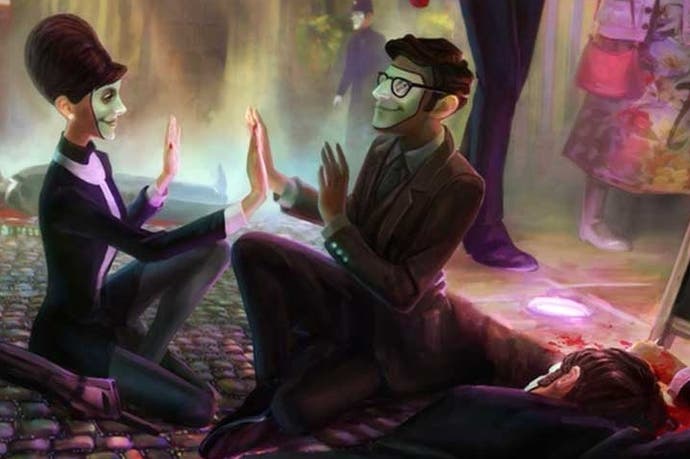 Developer Compulsion Games has confirmed that its jovial 1960s-inspired dystopian survival game We Happy Few will no longer release on April 13th as was previously announced, and is now delayed until "this summer". Its Early Access programme will also be suspended.
We Happy Few was revealed in 2015, and entered Steam Early Access in 2016 following a successful Kickstarter campaign. It's enjoyed regular updates since then, and is now, says Compulsion, "content complete". However, after "a thorough review of the game, beginning to end", the developer has decided to delay final release on PC, PS4, and Xbox One, in order to improve its structure and flow - as discussed in the video update below.
Alongside the delay, Compulsion has also announced that it's taking steps to address complaints around We Happy Few's controversial price hike last year - when the game rose from £23 to almost £40 following the decision to partner with Gearbox as publisher.
As Compulsion explains, "We find ourselves caught between Early Access (where it's important to have a price that reflects the current game) and the eventual release of the full game with increased scope (which we believe reflects a traditional retail game)".
Compulsion says that it's "received feedback that some Steam players felt the new pre-purchase asking price didn't mesh well with the game being categorized as Early Access." And although it insists the higher price points accurately reflects the substantially increased scope of the game ("What you guys see right now is definitely not what we see internally"), it concedes that, until it's able to show off that new work, "we can see their point."
The developer offered further clarification through email, explaining that the Steam price hike was necessary in order to match pre-orders on all other platforms. Even so, it has understandably caused confusion, with some recent buyers shocked to find that their full-price purchase has netted them a currently incomplete game.
Given that We Happy Few will receive no more updates until its full version 1.0 launch - its last update arrived in August 2017 - Compulsion acknowledges that it's no longer appropriate to position the game as an Early Access title. As such, the developer will offer refunds to all Steam buyers "past and present, regardless of playtime" (simply to ensure that everyone is satisfied with their purchase, it tells me), and will disable the 'buy' button as of February 1st, 2018, to avoid further player frustration.
Of course, those that are happy with their Early Access purchase will still be able to play the current build, and will still receive the full, final version of the game upon its release.
We Happy Few will be available to pre-purchase closer to launch, and until then, Compulsion will "continue working to make sure 1.0 is great and something you'll be happy buying".