We Happy Few will release in Australia following successful appeal
Sales ban overturned.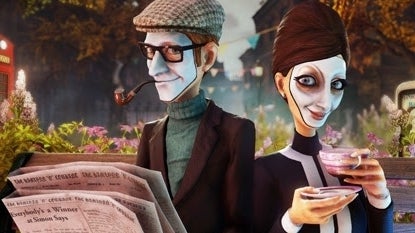 The Australian Classification Board has announced that, following a successful appeal by publisher Gearbox, Compulsion Games' psychedelic dystopian adventure We Happy Few will now receive a R 18+ classification, enabling the game to be sold in the country.
Back in May, We Happy Few was refused a classification in Australia, effectively banning it from sale, after it fell foul of the ratings board's strict policies on drug use in games. The board claimed that its drug-use mechanic, which can make progress easier in some circumstances, "constitutes an incentive or reward for drug-use and therefore, the game exceeds the R 18+ classification that states, 'drug use related to incentives and rewards is not permitted'".
In response, Compulsion Games noted that We Happy Few's "overarching social commentary is no different than Aldous Huxley's Brave New World, or Terry Gilliam's Brazil", highlighting that the game unfolds in a world where use of the drug Joy is mandated by the authorities, and that "the whole point of the game is to reject this programming and fight back".
At the time, the studio said that it planned to speak with the board to "provide additional information, to discuss the issues in depth, and see whether they will change their minds". In turn, the board announced last week that it would reconsider its initial ruling as part of an appeal by publisher Gearbox - an appeal which has now been deemed successful.
In its final report, the board confirmed that "A three-member panel of the Classification Review Board has unanimously determined that the computer game We Happy Few is classified R 18+ (Restricted) with the consumer advice 'Fantasy violence and interactive drug use'".
In a short statement released on its website, Compulsion said, "We are extremely pleased with the decision of the board and excited that our Australian fans and new players will be able to experience We Happy Few without modification.
"We want to thank everybody who got involved in the discussion, contacted the board and sent us countless messages of support. Your involvement made a huge difference."
We Happy Few comes to Xbox One, PlayStation 4, and PC on August 10th.