We Happy Few is getting season pass story episodes, free post-launch sandbox mode
Joy!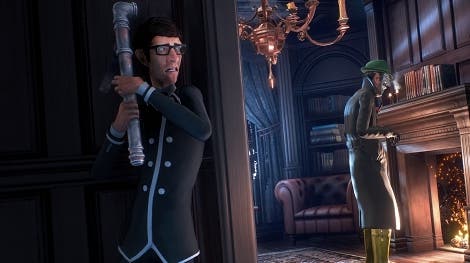 Developer Compulsion Games has announced its post-launch content plans for drug-fuelled dystopian nightmare We Happy Few, including three new story episodes for season pass owners and a free sandbox survival mode.
Sandbox Mode is set to arrive as a free update following We Happy Few's release this Friday, August 10th, and is described as a highly customisable "infinite mode". You'll be able to tweak a whole range of parameters prior to embarking on a bout of survival adventuring, adjusting the size of the world, how deadly it is, the amount of food available, and more. It's even possible to play as one of the game's policeman-like Wellies.
In other words, Sandbox Mode sounds very much like the open-ended, procedurally generated survival experience that We Happy Few was originally envisaged as at the start of its development, and the game that initially released on Steam early access in 2016. Since then, of course, Compulsion has changed tack, and the final release will offer a much more structured, narrative-heavy experience, similar to that implied by the eye-catching announcement trailer.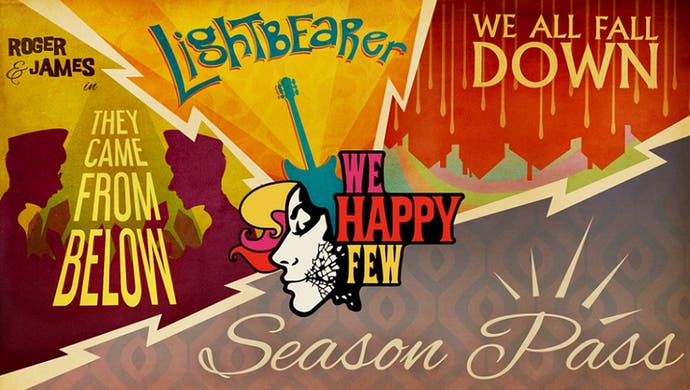 Alongside the free Sandbox Mode update, Compulsion has revealed the contents of We Happy Few's season pass, which will offer three new stories set in the world of Wellington Wells.
The first, known as Roger & James in: They Came From Below!, sees the two titular characters "set off in search of adventure and love, only to uncover bizarre technology and a terrifying new threat". Lightbearer, meanwhile, focusses on "heartthrob, artist, and personal trainwreck", Nick Lightbearer. He's described as Wellington Wells' "most celebrated rock star", but, asks Compulsion, "but what truly makes him tick?".
Rounding out the season pass offerings is We All Fall Down. "Much like any well-worn happy mask, all societies develop cracks in their veneer", explains Compulsion, "But that doesn't mean you should go digging up dirt from the past. Right?"
We Happy Few's season pass is currently only available as part of the Deluxe Edition, but will be made available separately when the game launches on Xbox One, PS4, and PC this Friday.