We Happy Few is getting a feature film adaptation
Oh joy!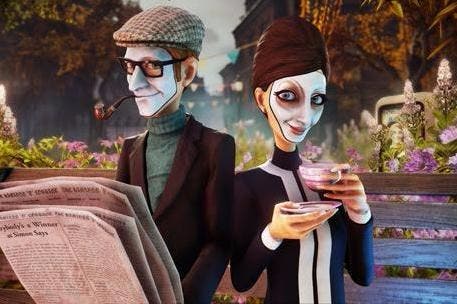 Psychedelic horror game We Happy Few is being adapted into a feature film.
The movie will focus on a strange "alternate 1960s" England where everyone wears smiling masks and consumes government mandated pills to stay upbeat. The film will star a man who's immune to the drugs and must uncover the dark secret behind this peculiar town.
The film is being produced by Gold Circle Films and DJ2 Entertainment, the company behind the upcoming Life is Strange TV series and movie adaptations of Sleeping Dogs and Sonic.
We Happy Few is currently in Early Access and available in beta form on the Xbox One preview programme.
Upon launching this early build last July, Eurogamer contributor Edwin Evans-Thirlwell came away skeptical of how the game was shaping up. "It's nice to see some skewering of England's vaunted cultural heritage in the age of Brexit," he said in his We Happy Few impressions. "But after a couple of days with the game, my high is already beginning to fade."