Watch the final apocalyptic moments of PlanetSide
Terran us apart.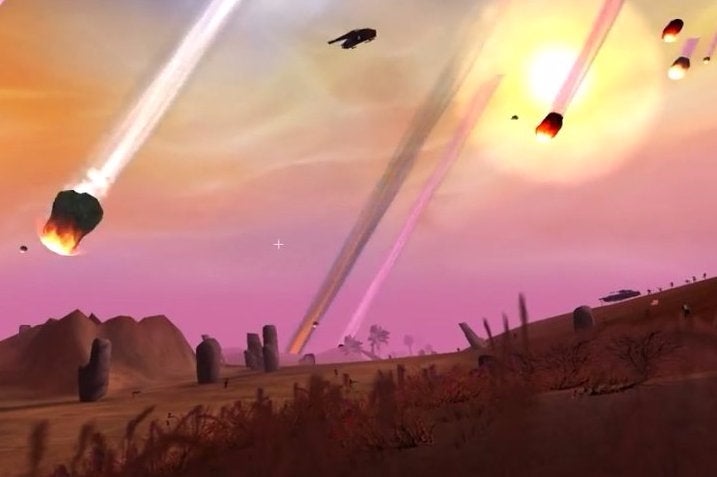 That's it, PlanetSide is dead. The massively-multiplayer online first-person shooter has been switched off. Meteors rained from the in-game sky 1st July as the world ended.
Apocalypse-spotters were there to record the event (via PC Gamer).
Daybreak, the game's maker, had warned the world it would close PlanetSide - along with old EverQuest card game Legends of Norrath - and also said when.
At the time, Daybreak said: "PlanetSide 1 has a very important history with Daybreak Games and a special place in the hearts of those who work on its successor. While we have run the game for free since 2014, due to evolving business needs and technical requirements it has become necessary to conclude this service."
PlanetSide is of course survived by a sequel, PlanetSide 2, which is free-to-play and available on PC and PlayStation 4. "An imposing but brilliant free-to-play gem that everyone should try, even if only a few will make peace with its off-putting nature," wrote Dan Whitehead in our PlanetSide 2 PS4 review.
PlanetSide 1 was released in 2003, and offered then what few other shooters had - and few have since, actually: battles involving hundreds of other players. The same philosophy carried over into PlanetSide 2 and resulted in a world record turnout of 1158 players in one battle - an event we wrote about.
PlanetSide 1's playerbase dwindled over the years but it's a testament to the game that it was still going 13 years later. Farewell, PlanetSide, farewell.
Were you a PlanetSide player? If you have any fond memories please share them below.