Warzone Trick or Treat locations and rewards, and how jump scares work explained
How to get everything you need from the Halloween event.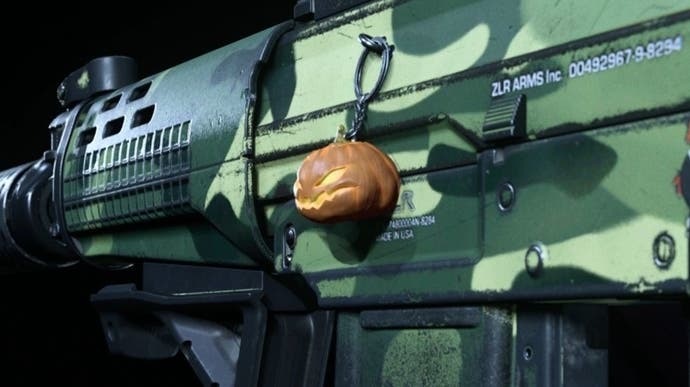 Trick or Treats are rewards in Warzone's Halloween event, Haunting of Verdansk.
The event offers 16 Trick or Treat rewards - including the Cleaver - which can be found across the entire map.
Finding them all will give you an additional reward - giving you some extra incentive to track them down.
However, as the name implies, the task isn't without risk - with there being a chance of a jump scare instead. Best of luck braving those to get everything you need!
On this page:
Warzone Trick or Treat boxes - and jump scares - explained
Finding all Warzone Trick of Treat rewards is thankfully pretty straightforward.
There are 16 Trick or Treat rewards across the map, each one being found in a named location. Within that location - whether it's the airport, the port, or the prison - you need to open supply boxes until you find it.
Every supply box on the map has a chance of giving you a trick or a treat - the trick being a jump scare - and a treat, which is the designated reward. You can see both in action in the above video.
The chances of finding either in a given supply box is low, but they aren't rare - we managed to find both a trick and a treat across three matches without opening too many boxes, so getting all 16 shouldn't feel like too much of a grind.
Finding all 16 will then give you an additional reward - the Pumpkin Punisher Blueprint: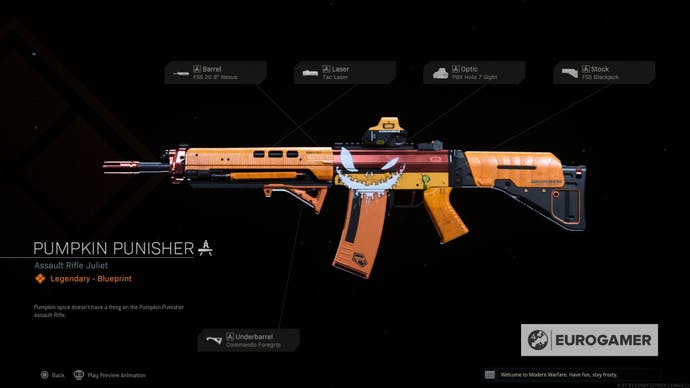 To see which you have remaining, you can check the event tab in the lobby or pause the game and consult the checklist to the side. Both of these make it pretty clear to see where you should be going next.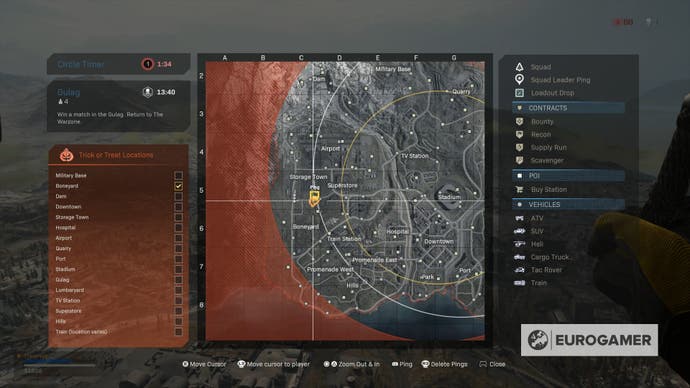 Trick or Treats appear in all modes of Warzone - even the non-Halloween themed playlists, such as regular Battle Royale. This means you can play whatever mode you prefer and are still able to get what you need.
The rewards will disappear once the Haunting of Verdansk event ends - so get them while you can!
---
Warzone Season 5 is almost here! If you want to learn more about firepower from previously, we explain the best Welgun loadout, best Cooper Carbine loadout, best Gorenko Anti-Tank Rifle loadout, best STG44 loadout, best MP40 loadout, best Automaton loadout, best BAR loadout, best Combat Shotgun loadout, best Type 100 loadout, and best Kar98k loadouts.
---
Warzone Trick or Treat reward locations, including the Cleaver, explained
Here is where you can find every Trick or Treat in Warzone.
Remember, all you need to do is keep searching regular supply boxes within the area specified until you get the reward.
| Location | Trick or Treat reward | |
| --- | --- | --- |
| Airport | The Joker Sticker | |
| Boneyard | Jack-O'-Lantern Charm | |
| Dam | Time of the Season Watch | |
| Downtown | Chainsaw Fiend Spray | |
| Gulag | The Cleaver Melee weapon | |
| Hills | Lil' Demon Charm | |
| Hospital | Pumpkin Peril Calling Card | |
| Lumberyard | Scary Patch Emblem | |
| Military Base | Return to Dust Assault Rifle | |
| Port | Ghoulish Gift | |
| Quarry | Flashy Gate Sticker | |
| Stadium | Killing Moon Emblem | |
| Storage Town | Spooky Scene Calling Card | |
| Superstore | Corpse Spray | |
| Train (location varies) | The Woodsman Spray | |
| TV Station | Oak Spray | |
If you're after the Saw and Texas Chainsaw Massacre skins and other cosmetics in particular - note they're store only purchases.
Good luck getting everything you need in Haunting of Verdansk!