Virtual reality omnidirectional treadmill funded on Kickstarter in a matter of hours
Early bird pricing started at $249.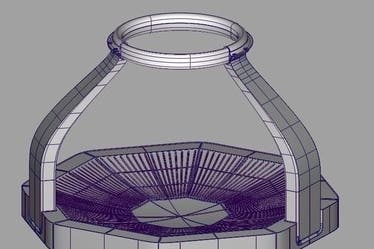 Virtuix's Omni, a treadmill device that converts your footsteps into in-game movement, has been funded on Kickstarter in a matter of hours.
The omnidirectional treadmill has already been in development for two years and, when teamed with an Oculus Rift headset, is able to give one of the most convincing VR experiences outside of an Animus.
The Omni project went live on Kickstarter earlier today. Virtuix asked for $150,000 (£98,000) to create an initial shipment of the device. At the time of writing $178,000 had been pledged, with the current total rising at around $1000 a minute.
"The Omni is the result of two years of researching, experimenting, prototyping and designing," Virtuix founder Jan Goetgeluk explained. "We've done a lot of work, and now we're turning to the community to get the Omni through the manufacturing phase.
"With the help of the community we can start tooling, and get as many Omnis as possible in the hands of VR gaming enthusiasts. Our Kickstarter rewards also come with a significant discount on the Omni's future retail price."
The cheapest price for the Omni is the product's $249 (£162) DIY version, which comes without an upper support stand (instructions are included for you to construct your own instead).
Most popular is the full Omni, although all 250 available through the $349 (£228) tiers are now gone. More expensive packs with the Omni included are still available from $399 (£260) and up. Shipping to the UK however is not cheap - expect to fork out $125-200.
Virtuix has recently been experimenting with the Omni and Oculus Rift combination - for example in this video, which shows Valve's Team Fortress 2 working with the pair in combination.