Video: Far Cry 4's first story details leak
Want Tibet what it's about?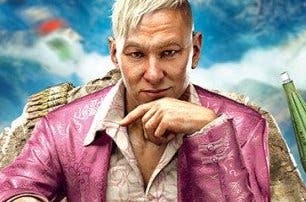 Ubisoft's online store appears to have inadvertently revealed a few story snippets for the recently announced Far Cry 4.
A now-deleted paragraph (still available in Google's cache of the page) revealed the player character's name and why exactly it is you'll be trekking round the Himalayas.
This time, it seems, you're not a bratty American teen on holiday.
"Hidden in the majestic Himalayas lies Kyrat, a country steeped in tradition and violence," Ubisoft wrote. "You are Ajay Ghale. Traveling to Kyrat to fulfill your mother's dying wish, you find yourself caught up in a civil war to overthrow the oppressive regime of dictator Pagan Min."
Watch Eurogamer's YouTube editor and Far Cry fan Ian Higton offer his thoughts on what this might mean for the game's story in the video below.
Ubisoft officially revealed Far Cry 4 last week and confirmed - as expected - its new mountainous setting. The title will launch on 21st November in the UK for PC, PlayStation 3, PS4, Xbox 360 and Xbox One.
Watch on YouTube