Watch: Johnny cooks Crab Rangoon from Far Cry 4
Pagan Munch.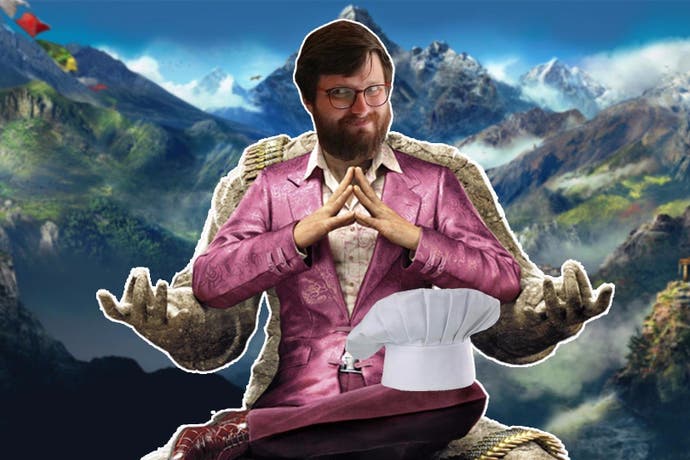 Far Cry 5 has officially been unveiled, with the series focusing in on a fictionalised group of murderous far-right fanatics. It's a bold choice, one that's seen some series fans longing for simpler times - times when Far Cry was about getting questionable tattoos and being offered plates of Crab Rangoon.
While personally I'm intrigued to see exactly where Far Cry 5's story goes, I also quite liked the sound of cooking up some of Pagan Min's Crab Rangoon from Far Cry 4 - so that's exactly what I did in this week's episode of Chiodini's Kitchen.
You can see how they turned out in the video below and, should you fancy dining like a bloodthirsty despot yourself, you can see the recipe below that.
Crab Rangoon
Ingredients
180g cream cheese
120g crab meat
Dash soy sauce
Dash sesame oil
Dash Worcestershire sauce
Salt
Pepper
500g plain flour
100ml water
1 egg
Pinch of salt
1 egg, beaten (to seal)
Method
Place the cream cheese, crab meat, soy sauce, sesame oil, Worcestershire sauce, salt and pepper in a bowl and mix well with a fork.
In a separate mixing bowl, mix the plain flour with a pinch of salt and then make a well in the middle. Crack in an egg and add the water, working the ingredients together to form a dough.
Knead the dough, roll it out thin and cut it into square wonton wrappers.
Place a small blob of the crab mix into the centre of each wrapper, brush the edges with beaten egg and pinch the corners shut to form wontons.
Deep fry in hot oil until golden brown, about 3-4 minutes. Failing that, brush with either olive oil or melted butter and bake in a hot oven until golden brown.