Universal Studios Japan transformed into Raccoon City
Photos from Resident Evil theme park makeover look frightfully good.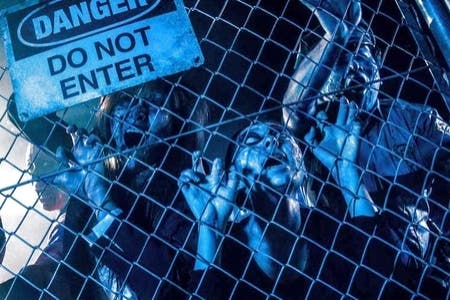 The streets of Universal Studios Japan will run red with blood from this Friday, as the theme park is transformed into a live action replica of Resident Evil's zombie-infested Raccoon City for the annual Halloween Horror Nights event.
Taking inspiration from the early games in the long-running survival horror series, the makeover is impressively detailed. The Cyberdyne building from the park's Terminator 2 attraction has been remodeled as the Umbrella corporate headquarters, while props and nifty projection techniques have turned the New York street set into the decaying Raccoon City ruins. Actors playing series characters such as Chris Redfield and Jill Valentine will be on hand to guide tourists through the carnage, and see off any Lickers that may strike.
Photos from the launch, below, appeared on Japanese site Game Watch Impress. It might be handy if you, the master of looking at screenshots, take a look at them.
This isn't the first time Capcom has teamed up with Universal Studios. In July the publisher took over the park as part of an event called Monster Hunter Real 2012.
The Resident Evil experience opens this Friday and runs every night through to November 11th, neatly encompassing both the worldwide launch of Resident Evil 6 on October 2nd and the infernal holiday of Halloween.
Thanks to Kotaku.