UK Top 40: Lego Batman 2 soars to third number one
But where did Theatrhythm, The Secret World place?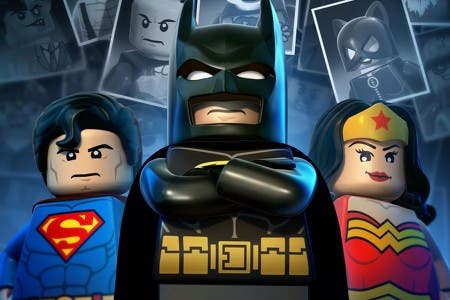 Lego Batman 2: DC Super Heroes has soared to a third consecutive week atop the UK all-format charts.
It beat London 2012: The Official Video Game into second place, despite the latter increasing in sales ahead of the Olympics.
Activision film tie-in The Amazing Spider-Man was slung into third place, ahead of 2K shooter Spec Ops: The Line in fourth.
Dead Island's Game of the Year Edition entered the charts in fifth, meanwhile.
Other new entries included musical Final Fantasy spin-off Theatrhythm. The 3DS-exclusive turned up in 19th place.
Funcom MMO The Secret World managed to chart too - just. Its boxed PC version notched up a meagre 38th place entry.
The full top 40 lies below.
| This Week | Last Week | Title | Platform(s) |
| --- | --- | --- | --- |
| 1 | 1 | Lego Batman 2 | DS, PC, PS2, PS3, PSP, Wii, Xbox 360 |
| 2 | 4 | London 2012: The Official Video Game | PC, PS3, Xbox 360 |
| 3 | 2 | The Amazing Spider-Man | 3DS, DS, PC, PS3, Wii, Xbox 360. |
| 4 | 3 | Spec Ops: The LIne | PC, PS3, Xbox 360 |
| 5 | New entry | Dead Island: GOTY Edition | PC, Xbox 360, Xbox 360 |
| 6 | 7 | The Elder Scrolls 5: Skyrim | PC, PS3, Xbox 360 |
| 7 | 5 | FIFA 12 | PS3, Xbox 360 |
| 8 | 34 | Call of Duty: Modern Warfare 3 | DS, PC, PS3, Wii, Xbox 360 |
| 9 | 6 | Ghost Recon: Future Soldier | PC, PS3, Xbox 360 |
| 10 | 14 | FIFA Street | PS3, Xbox 360 |
| 11 | 12 | Mario & Sonic: London 2012 Olympic Games | Wii |
| 12 | 13 | Sniper Elite V2 | PS3, Xbox 360 |
| 13 | 8 | Max Payne 3 | PC, PS3, Xbox 360 |
| 14 | 16 | Batman: Arkham City | PS3, Xbox 360 |
| 15 | 9 | Battlefield 3 | PC, PS3, Xbox 360 |
| 16 | 18 | Call of Duty: Black Ops | PC, PS3, Wii, Xbox 360 |
| 17 | 15 | Mass Effect 3 | PC, PS3, Xbox 360 |
| 18 | 17 | Assassin's Creed: Revelations | PC, PS3, Xbox 360 |
| 19 | New entry | Theatrhythm: Final Fantasy | PS3, PS Vita, Xbox 360 |
| 20 | 21 | Halo: Combat Evolved - Anniversary | Xbox 360 |
| 21 | 24 | Diablo 3 | Mac, PC |
| 22 | 22 | Moshi Monsters: Moshling Zoo | DS |
| 23 | 26 | Lego Pirates of the Caribbean | DS, 3DS, PS3, Wii, Xbox 360 |
| 24 | 33 | Kingdoms of Amalur: Reckoning | PC, PS3, Xbox 360 |
| 25 | 20 | Skylanders: Spyro's Adventure | 3DS, PS3, Wii, Xbox 360 |
| 26 | 23 | Rayman Origins | PS3, Wii, Xbox 360 |
| 27 | 10 | Metal Gear Solid HD Collection | PS3, PS Vita, Xbox 360 |
| 28 | 30 | Mario Kart 7 | 3DS |
| 29 | 25 | Super Mario 3D Land | 3DS |
| 30 | 28 | WWE '12 | PS3, Xbox 360 |
| 31 | 27 | Lego Harry Potter: Years 5-7 | 3DS, DS, PC, PSP, PS3, PS Vita, Wii, Xbox 360 |
| 32 | Re-entry | Grand Slam Tennis 2 | PS3, Xbox 360 |
| 33 | 32 | Grand Theft Auto Episodes - Liberty City | PS3, Xbox 360 |
| 34 | Re-entry | Need for Speed: The Run | PS3, Xbox 360 |
| 35 | 39 | Football Manager 2012 | PC, PSP |
| 36 | 11 | The Ratchet & Clank Trilogy: HD Classics | PS3 |
| 37 | 38 | Skate 3 | PS3, Xbox 360 |
| 38 | New entry | The Secret World | PC |
| 39 | 31 | DiRT Showdown | PS3, Xbox 360 |
| 40 | Re-entry | Mario Kart Wii | Wii |